County Council at crossroads over 'dangerous' Pembroke junction
Second-year Girtonian Lara Parizotto has launched a petition to install traffic lights at one of the busiest intersections Cambridge students frequent regularly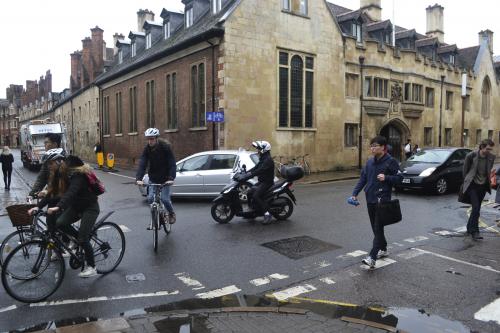 "I thought something must be done", said second-year Girton student Lara Parizotto, who has recently launched a petition calling upon Cambridgeshire County Council to install traffic lights at the junction connecting Mill Lane, Pembroke Street and Trumpington Street.
Open for signatures until Sunday 25th November, the petition has demanded "an investigation to determine the suitability of a new traffic light system on the junction of the three busy Cambridge roads mentioned which currently pose a risk to all road users". It cites the dangers that pedestrians and cyclists face on a daily basis as they "struggle to join traffic as there are no measures in place for cars and buses to give way".
Parizotto told Varsity that she found the junction "very very dangerous" during her first year due to the high volume of traffic. She said that upon returning to Cambridge, talking to other concerned students combined with several near misses with cars and cyclists inspired her launch the campaign.
The junction, one of the busiest in Cambridge, is used by hundreds of vehicles and cyclists everyday, particularly by students travelling to lectures on Mill Lane and Pembroke Street. The proximity of Colleges including Pembroke, Peterhouse and St Catherine's adds to the foot traffic at the interchange.
Parizotto explained that although the layout of the junction is not a particular problem, the lack of a clear give-way or traffic light system makes it "very difficult". She stated that it is an issue "not just for cyclists, because some cars try to give way to pedestrians, to cyclists, and don't know whether they can go or not without harming someone."
"I just feel like you're taking your life into your hands every time you cross the road"
She has suggested that a traffic light system would make the junction safer, as it would allow cyclists to set off before cars and buses. "You are already in a very vulnerable position being a cyclist, and if you're trying to compete with big cars or buses it can be a bit scary", she added. She argued that it would give cyclists "extra security and confidence" to know that they would not be caught up behind big vehicles when trying to navigate the area.
Pembroke second-year Catherine Lally expressed her support for Parizotto's petition: "I have to walk across that intersection several times a day and I still find it as scary as I did when I was a fresher, just because of the concentration of cars and cyclists turning around the really steep corners. I just feel like you're taking your life into your hands every time you cross the road."
Lally agreed that traffic lights would make the area easier to navigate, describing the crossing as "a safety hazard for cyclists and pedestrians" in its current state.
However, second-year Homertonian Alex Evans disagreed that traffic lights would solve the traffic problems, arguing that they would "only make the traffic worse" due to the proximity of a pedestrian crossing meters away on Trumpington Road.
Evans said that he believed that the junction poses a danger to students, largely caused by the narrowing turning area for buses and limited space for cyclists and pedestrians. He called for the prohibition of "buses and large vehicles from going up such a narrow road and, more importantly, for everyone to use their indicators."
He commented further that "the amount of pedestrians who have nearly been hit by inconsiderate motorists and cyclists is beyond a joke. If people could take the extra second to do so [to indicate], everyone would have a better understanding of how the traffic will be flowing and thus can plan around them."
A Cambridgeshire County Council spokesperson stated that "regular inspections are carried out on all county council roads to ensure suitable levels of safety are maintained and appropriate measures are put in place where possible", adding that petitions "are one way in which residents can let us know their concerns."
A member of the Council and the Highways and Community Infrastructure Committee, Jocelynne Scott, said that "to see so many signatures for a petition in such a short space of time shows how strongly people feel about this issue. This junction is a vital and busy intersection in Cambridge, and we need to ensure that the safety of all road users are taken into consideration."
Parizotto has described the engagement of councillors as "hopeful", adding: "it's never too dull or annoying to talk about it, if you feel like there is something that should be changed."