Cambridge Union to host Duterte ally Manny Pacquiao
Pacquiao is an outspoken supporter of Filipino President Rodrigo Duterte, and has expressed controversial views on the 'war on drugs' and gay rights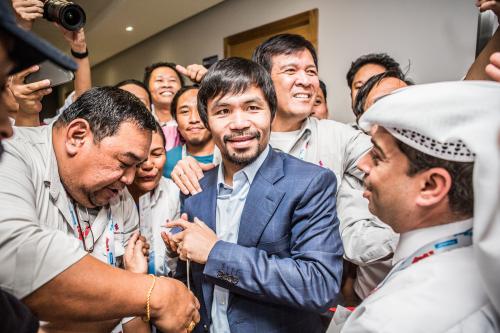 The Cambridge Union announced on Friday that Manny Pacquiao, a prominent Filipino boxer and controversial politician, will speak in the debating chamber on Tuesday.
Pacquiao is a close ally and the expected successor to President Duterte, who has been accused of human rights violations in his authorisation of extra-judicial killings in his 'war on drugs'. Pacquiao has also been invited to speak at the Oxford Union on Monday 5th November.
During his Senatorial campaign, in February 2016, Pacquiao was criticised after calling people in same-sex relationships "worse than animals".
Speaking on the decision to invite Pacquiano, the Cambridge Union said, "that there is no other practical opportunity in Cambridge for students to regularly challenge individuals face-to-face whom they disagree with, and to hold high profile public figures from around the world to account is central to our intention to ensure a wide variety of viewpoints".
They said that the Union will be hosting Gary Alejano, one of the most high-profile critics of President Duterte's government, on 13th November, adding, "we are proud to bring together a diverse committee and body of members, who from their individual political backgrounds and standpoints can ensure a varied and challenging exchange with our guests."
Pacquiao has described Duterte as a "friend" and that he "supports him 100% in his advocacy against drugs." The Philippines National Police has estimated that between July 2016 and May 2018, over 4,200 suspected drug offenders were killed by police forces, while human rights group Human Rights Watch has claimed has resulted in 12,000 deaths, including those committed by vigilante groups. 
Duterte has publicly endorsed Pacquiao to be the next president of the Philippines.