King's College commits to 'substantial improvement' in dealing with reports of racial profiling
Churchill English academic Dr Priyamvada Gopal will resume teaching King's students after the college provost acknowledged the extent of the issue of racial profiling by porters and visitor guides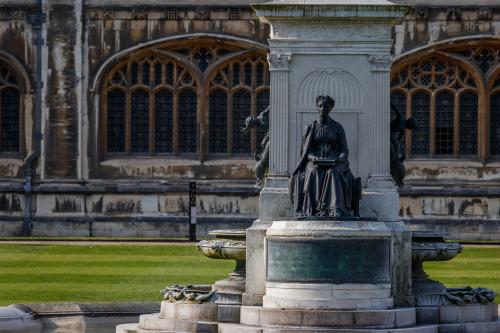 King's College announced yesterday that they will be working with students and minority officers over the coming weeks to develop "clear and simpler means of reporting incidents" of racial profiling by porters, following a boycott of the college by Churchill academic Dr Priyamvada Gopal, along with two of her colleagues from the Faculty of English.
Linking the statement by College Provost Michael Proctor, Dr Gopal announced on Twitter yesterday evening that she will rescind her boycott of supervising King's students, noting that "senior members of the college, including a top official, have conveyed their private apologies to me and have assured me that the problem is being taken seriously."
The statement from the college provost marks a significant reversal from the college's response to Dr Gopal's boycott in June, in which they said they had "found no wrongdoing" toward the academic.
Dr Gopal told The Guardian in June that she has experienced 13 incidents of racial profiling and aggression by college porters and gatekeepers in her 17 years at the University, and that she had "heard over 20 to 30 testimonies from students past and present about how they have been treated".
The provost's statement recognised recent complaints of racial profiling from visitors and members of the University, adding that the College has been "distressed" about the issue, and that it had become "clear in discussion with our students and staff that there has been a reluctance to complain".
King's will also review existing procedures for handling complaints, and have said that further measures have been introduced to "improve communication and trust" between staff, students, and visitors.
The provost also stressed that all visitor guides and porters have received appropriate training, including unconscious bias training.
On Twitter, Dr Gopal expressed her gratitude to King's College students for showing solidarity for her over the issue and stressed that the teaching boycott gave her "no pleasure" while she is "glad to offer it [teaching] when possible".
In June, King's English students released an open letter in support of Dr Gopal, writing that they saw the College's "categorical denial of wrongdoing" as a "refusal to listen to the voices and experiences of people of colour".
Dr. Gopal added that her intent has always been "to have a light thrown on a long-festering problem" and that she thinks this has been done now. She has also expressed hope that racism and other kinds of discrimination can be discussed "openly, honestly, and in good faith" in Cambridge.