Student activists condemn national press over targeted Remembrance Day coverage
The statement has been signed by several CUSU liberation campaigns and student activist groups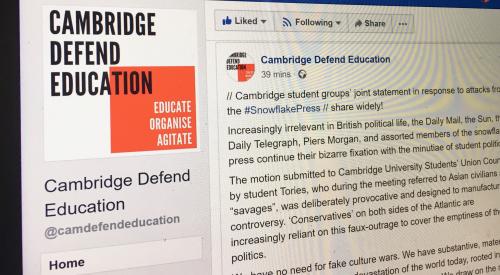 18 Cambridge student activist groups have issued an open statement today criticising a "bizarre fixation with the minutiae of student politics" in wake of a national media storm over a proposed amendment to a CUSU Council motion on the subject of Remembrance Day.
The statement, signed by Cambridge Defend Education, Demilitarise Cambridge and Cambridge BME Campaign, among others, urged "the democratisation of Britain's oligarchic media", which it described as "little more than a mouthpiece for the far right" and as having lost a "grip on reality".
The University of Cambridge condemned yesterday the "extreme online abuse" of Cambridge students involved in the Remembrance Day debate, as national media coverage in The Daily Mail, The Telegraph, The Sun, The Metro, The Express, and The Times sparked widespread online attacks and trolling. The Daily Mail and The Telegraph placed a photograph sourced from Facebook of one of the students involved in articles on the debate.
The CUSU Council debate on Monday involved whether to approve an amendment proposing to "encourage the commemoration of those whose lives have been affected by war" in place of a motion encouraging the commemoration of British war veterans on Remembrance Day.
The open statement has called the original motion, put forward in Council by Cambridge University Conservative Association (CUCA) members William Phelps and Tohin Munshi, "deliberately provocative and designed to manufacture controversy". Both the original motion and the amendment were eventually rejected in CUSU Council on Monday evening.