Explained: Cambridge's new move away from Hermes
While freshers will automatically have their emails set up with Microsoft Exchange Online, existing users will be free to continue using their Hermes accounts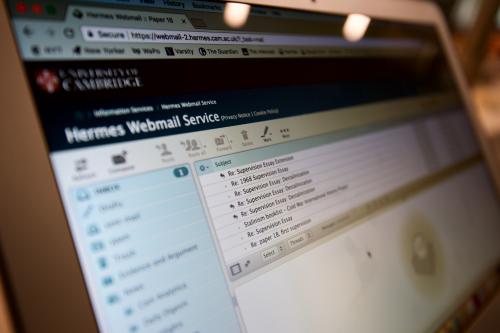 Marking the end to the ubiquitous use of the Hermes webmail service by University of Cambridge students and staff, incoming freshers will have their emails set up under a new webmail service, Microsoft Exchange Online.
The new webmail service, the University's first departure from the Hermes webmail service since 1993 when it was first introduced, has also been made available to most current Cambridge students, colleges, and departments that wish to make the switch, as well as to the incoming fresher cohort.
The new webmail system carries a number of features, including 50GB of mail storage, the ability to send emails up to 100MB in size, and consolidation of personal calendars.
The University Information Service (UIS) has assured students, however, that "there are currently no plans to remove or change support available to Hermes".
The UIS has listed the matriculated students whose accounts are not covered under the University's Enrolment for Education Solutions (ESS) agreement and therefore do not qualify for a University of Cambridge Microsoft account: students studying at the Judge Business School, Clinical School, Department of Zoology, or Sainsbury Laboratory all have email accounts associated with their individual institutions.
Staff employed directly by main University institutions are eligible to migrate their accounts to Exchange Online, while staff who are from affiliated institutions may not automatically qualify.
For those who wish to migrate from Hermes to Exchange Online, the UIS has provided guidelines which explain the process, where Hermes accounts will stop functioning as the main email account once emails have been redirected. Users will able able to migrate all of their existing emails to the new system, though the UIS has recommended that more than 40,000 emails should not be migrated in any single folder.  
Over 15,600 users have already made the switch, according to the ongoing tally of migrations to Exchange Online on the UIS website.