Freshers will never experience the beauty of Hermes
You'll be in our hearts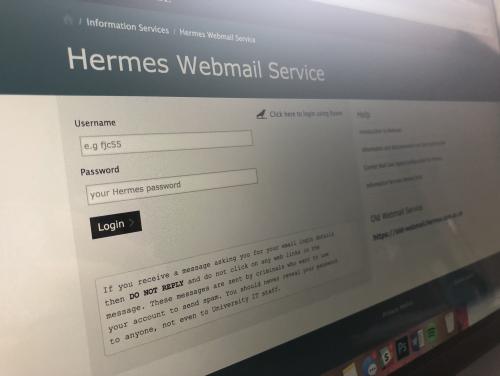 There are many things dear to my heart: Carlos Tevez's brief time at West Ham, the fact the Undertaker used the song Rollin' by Limp Bizkit as his entrance music during his weird midlife crisis biker phase, and the chili sauce at Picnic Kebab House in Leicester to name but a few.
But more than all of these, more than even my love of giving American tourists in London the wrong directions, is my love of the University's mail system, Hermes.
And now, after 25 years of bringing generations of students joy, the University have decided to kill it off for this year's freshers and replace it with Microsoft's Exchange Online for email.
I'll be honest, I have no idea what this really means and how it'll affect anything but I want it to be known that I, Devarshi Lodhia, am outraged by this decision.
Hermes was a true Cambridge institution like The Van of Life, pretending to your friends back home that drinking port while wearing a gown is more fun than gurning your way through a house party in Leeds, or student Tories who simultaneously look 15 and 50.
And now it's gone.
Despite this, we should use its passing as an opportunity to celebrate Hermes' life. A life that gave generations of students and staff joy.
Born in 1993, Hermes was the product of simpler times – internet use was in its infancy, Anglia Ruskin had just been founded, and outsourcing IT was far from the norm.
And yet from this primitive age before streaming and Homerton College emerged a titan, an icon, a friend.
Perhaps Hermes' best moment came in 2003 when just before Christmas it almost caused one of the computers supporting it to catch fire. This was classic Hermes – ever the prankster!
Hermes lived a long and full life and was there for me when no one else was and so I wanted to honour it with a time honoured tradition.
However I've been reliably informed by Varsity's Web Developer that it's impossible for me to roll Hermes' ashes into a blunt and smoke it so please instead join me in pouring one out for our fallen homie and a true Cambridge O.G.
Goodnight, sweet Hermes. You're with the angels now.