Join Varsity's video, photography and design teams in Michaelmas
Varsity is opening applications for video, photography and web design. Join the team.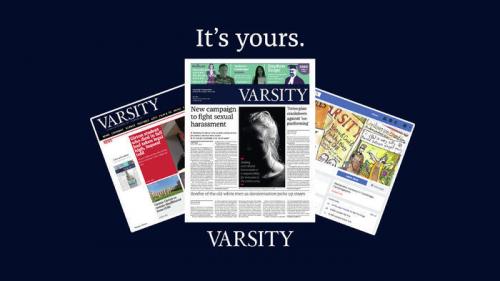 Make a video. Take a picture. Start a conversation.
Next term, Varsity's digital team is set to ramp things up. In video, we'll be creating a wide breadth of content ranging from high-quality news videojournalism to fun, shorter videos, to in-depth documentaries.
You'll see a new emphasis on photojournalism, giving photographers more opportunities to experiment, create photo stories, and shape the paper's visual presence.
We're also seeking a team of web developers to up our digital design. As Varsity grows online, we need a team ready to raise the bar of our digital presence. You'll learn the ins and outs of designing and creating our website, reaching tens of thousands of readers every month.
It's an exciting time to join Varsity as we look to revolutionise our video, photography and web design. You can be a part of the team shaping that change.
Apply now. No experience required – just commitment, passion, and ideas.
Information on all roles and instructions for application can be found below.
---
The video section is heading in a very exciting direction, with increasing output and a growing scope for experimentation. We're looking for people excited about the potential for Varsity video. We want all sorts of talent in this section: whatever your skills and interests, we can find a place for you.
Head of Video
The head of video will be responsible for overseeing Varsity's video output. This will require running and organising the video team to produce high-quality content in a timely manner. They will commission content from the rest of the video team, keeping an eye on upcoming opportunities in Cambridge as well as ways to collaborate with other sections. If you wish to apply for this role, please provide:
● A 500 word critique and vision statement for Varsity's video content, outlining some ideas for the kind of content you'd like to pursue next term. Include an explanation of how you would make sure video reflects the diversity of Varsity's textual content.
● An explanation of any experience you have for the role, why you think you would be suitable, and why you want to do it (300 words maximum).
Video Team
The video team will be responsible for creating the content which the head of video proposes, as well as coming up with their own ideas about exciting video opportunities. We're looking for people to shoot, edit and present Varsity's video output. You are welcome to apply to any one or selection of these roles, and Varsity will be able to provide opportunities to expand and develop your skills. To apply, please provide:
● An explanation of the role you would like to have within the video team, as well as details of any skills, equipment and software you currently have.
● An explanation of any experience you have of working with video, including a link to any examples (none required).
● Three suggestions for video content you'd like to see Varsity produce in Michaelmas Term.
---
Photography Editor
Our photography editor keeps the newspaper looking fresh and vibrant with new and original photographic content, particularly the News and Sport sections. As photography editor you will be responsible for commissioning a team of Varsity photographers, as well as running, expanding and providing training to that team. To apply, please provide:
● An explanation of your current involvement with Cambridge's photography community (200 words maximum).
● A small portfolio of your own work.
● A list of any photography kit you have (it is not necessary to have any as Varsity has some of its own)
Photography Team
If you would just like to be part of Varsity's photography team, send an informal email to applications@varsity.co.uk along with a selection of your pictures.
---
---
You might have noticed some new elements in our online content recently. We're trying to raise the bar, and we're looking for the best and brightest Cantabrigian coders to take our frontend material to the next level. Proficiency in HTML is a necessity, experience in other software, such as CSS, Adobe Suite software and D3.js would also be valued. To apply, please provide:
● A critique of Varsity's online production value and outlining what front-end changes you would look to make (500 words maximum).
● An outline of your experience of the following: HTML, CSS, D3, JavaScript, Adobe Illustrator, Adobe Photoshop, Adobe Muse, Adobe InDesign.
---
Applications
To apply for any positions, email your application to applications@varsity.co.uk by 5pm Sunday, 29th July. Let us know as soon as possible at applications@varsity.co.uk if the deadline poses an issue.
All applications must include:
Your full name, subject, college and what year you are in.
Which role(s) you would like to apply for.
Details of any academic commitments you have in Michaelmas Term.
Commitments to societies/activities other than Varsity during the term.
Details of any experience you have for the role. No experience is required or expected. However, if relevant, you may wish to include any experience gained in journalism or from other extra-curricular activities, and any technical skills (e.g. ability to use Adobe InDesign, Photoshop or video editing software).
Have any questions about the roles? Pop an email to Noella Chye at editor@varsity.co.uk. Alternatively, get in touch with current team members – they'll be happy to answer any queries. Their contact details can be found here.
Don't hesitate – apply now.