Daniel Zeichner labels Cambridge-London train disruptions 'completely unacceptable'
The Cambridge MP has written a letter calling the Department for Transport to take action following repeated delays and cancellations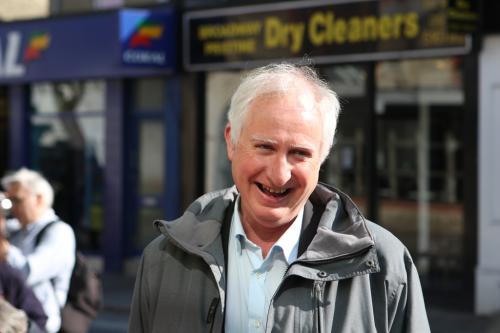 Cambridge MP Daniel Zeichner has shown his support for constituents' complaints about train services between London and Cambridge.
Zeichner shared a letter on Facebook that he had addressed to Chris Grayling, the transport secretary, criticising what he called the "terrible rail service" from Cambridge to London.
Zeichner said he considers the "huge upheaval and inconvenience" caused by the disruption in rail services between the two cities "completely unacceptable", particularly given the "huge cost" of a season ticket, which can reach as much as £4,952.
The MP mentioned two rail companies specifically, Greater Anglia and the Great Northern line, run by Govia Thameslink Railway (GTR), and cited "huge problems on both of these lines". Currently there have been signalling problems on the Greater Anglia line which runs into Liverpool Street station that have led to disruptions such as delays, short notice alterations and cancellations. Last week, a failure in GTR's taxi booking system caused further delays.
The Great Northern line into King's Cross has experienced delays, alterations and cancellations after a new timetable was introduced at the end of May. Most notably, a timetable error last week left school children from the Stephen Perse School in Cambridge stranded at King's Cross after their train failed to stop at their station, continuing straight through.
Great Northern told Varsity that "this interim timetable prioritises peak-hours services and reduces service gaps". Commenting on the incident with the Stephen Perse students, Great Northern stated that they had arranged for an alternative service and that announcements were made on four occasions to this effect, and apologised for any distress caused.
Jiayu Qiu, a student at Pembroke College, experienced the disruptions first-hand when she tried to get to London on two occasions in June. She booked a Greater Anglia train to Liverpool Street, but was warned by a friend to check the train cancellations. It turned out that the train was cancelled, but she commented that "the most annoying thing is that there was no email notification or anything issued to me at all."
At a later date, intending to get a direct train to Gatwick from Cambridge, Qiu was unable to find whether or not the train was running online. Arriving at the station early in order to ask the station staff about cancellations, she was told that the station "couldn't guarantee whether the train would run". The student commented that "there seems to be no sure way of checking or of being informed where and when trains were being cancelled, and that lack of communication is what's most frustrating".
In his letter to the transport secretary, Zeichner asked how the Department for Transport will secure compensation for those affected, how they will improve the service provided for commuters from Cambridge, and when a "reliable service" can be expected to be resumed.
Zeichner also asked how the Department will prevent similar disruption from happening in the future, and what investment the Department are planning to put into the "maintenance and improvement of the Greater Anglia line" after all of its recent infrastructure problems.
A redrawn timetable will be put into place starting on the 15th July.
Greater Anglia has not yet responded to Varsity's request for comment.