Alt-right plan Cambridge march in support of Tommy Robinson
Stand Up to Racism announced plans for counter-demonstration amid large police response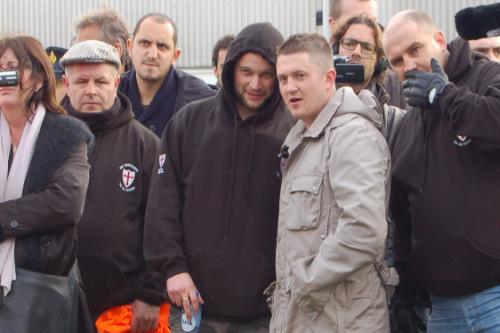 An alt-right group are planning a march in central Cambridge, in support of the jailed founder of the far-right English Defence League (EDL), Tommy Robinson.
The protest, which styles itself as standing up "for Free speech … against this dictatorship they call a government and ... against the persecution of Tommy Robinson" is scheduled for 21st July along a route between Parker's Piece and Midsummer Common.
Event organiser Luke Alexander claims the march has been permitted by Cambridgeshire Police; however, the force has established a "Gold Commander", Inspector Steve Kerridge, for the day. Gold Commanders are only appointed when it is likely that a coordinated response between emergency services will be required. Riot police are expected to be on standby to deal with any violence on the day.
Inspector Kerridge told Cambridge News: "We are aware of some discussions concerning a possible event to express support for Tommy Robinson in Cambridge.

"We encourage any organisers of events seeking to exercise the fundamental right to protest peacefully in the public domain to contact us, so appropriate arrangements can be made as necessary to ensure the safety and security of all people."
In response to the protest, Cambridge Stand Up to Racism and Unite Against Fascism have announced plans for a counter-demonstration. In a statement, the counter-protesters said: "There is no place in Cambridge's proudly diverse, multi cultural and multi faith community for the sort of racism espoused by Robinson and many of his supporters.
"We stand proudly alongside our Muslim brothers and sisters, and welcome the arrival of refugees in our city. We won't let the racists divide us, and call for the utmost unity against their poisonous aims."
The statement has received several high profile endorsements, including Cambridge MP Daniel Zeichner, Alex Meyer MEP, and several city and county councillors.
The Cambridge march is one of several being organised under the #FreeTommy movement. EDL founder Robinson was jailed for thirteen months in May for contempt of court, after livestreaming for more than an hour outside Leeds Crown Court. He claimed to be "reporting" on a case that faced reporting restrictions.