Black women of Cambridge stage photoshoot on historic anniversary for access
The first black woman to attend Cambridge graduated 70 years ago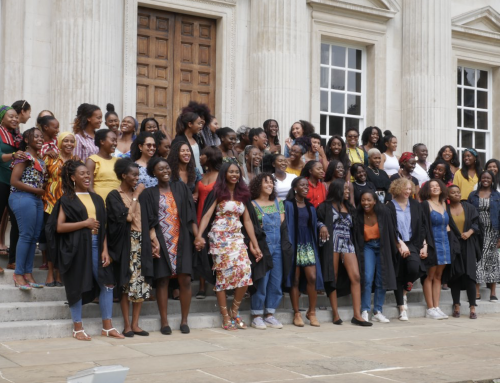 More than 50 black female Cambridge students posed for a photograph yesterday in front of Senate House, on the 70th anniversary of the first black woman graduating from Cambridge.
Gloria Claire Carpenter, from Jamaica, is thought to have been the first black woman to attend Cambridge. She studied law at Girton, and went on to help found the Law Faculty of the University of West Indies in Jamaica.
Timi Sotire, vice-president of the Cambridge University African Caribbean Society (ACS), spoke in a video produced by the University. She said of the other women included in the photograph that "70 years ago none of us would have been here", whereas "now we have a really strong black cohort".
Sotire said that through releasing the photos, they wanted "black girls who want to apply to Cambridge to know that there is a place for them here".
ACS released an open letter, with President Toni Fola-Alade writing that the society wanted to "give black women, who contribute immensely to ACS and University community, unprecedented visibility in the University space and national conversation."
They wanted the photos "to highlight the abundance of black women who are thriving at the University 70 years on from the graduation of the first black woman at Cambridge in 1948", and "honour and shed light on the legacies of the black women who paved the way within the University and in their later life."
The letter pointed to influential black alumna of Cambridge beyond Carpenter, including Justice Akua Asabea Ayisi, who "studied at Newnham College in 1959 and was the first female journalist in Ghana", as well as an "early member of Kwame Nkrumah's Convention's Peoples Party for Ghanaian independence and one of the first female judges on the Ghanaian bench."
Sophie Huskisson, a first year English student at Magdalene, added to the open letter: "In the future, I won't have to come up with a statement about my experience as a black woman at the University of Cambridge. My statement won't be any different to anyone else's."
The letter emphasised that to black women at Cambridge, "controlling our narrative is paramount and ensuring that we remain visible and have our voices heard is of the utmost importance".
"Black women should be acknowledged because they make meaningful contributions to the University and are often the driving force behind student activism."
CUSU Women's Officer Lola Olufemi told Varsity that "black women should be acknowledged because they make meaningful contributions to the University and are often the driving force behind student activism." She added that "calls for the university to face up to racism, sexism and it's the way it upholds oppressive power structures have always come from the students who know what the consequences of that maintenance of power look like."
Olufemi noted that "we are not new in this University", and "black women have a history here" that has been "shaped by the University's colonial past." She said "we should recognise how far we've come but also the history that brought us here."
Last year, a photo of 14 black male Cambridge students gained national attention, in an effort by ACS to "capture just some of the black men who contribute to one of the world's most innovative intellectual spaces".
The photo was intended to highlight the fact that only 15 black male undergraduates were accepted by Cambridge in 2015. 2016 was also the first year on record that Cambridge accepted more black men than it did Etonians.
Cambridge has received harsh criticism in recent months for its low success rates for BME applicants, with only 12.8% of black Caribbean applicants successful in 2017.
Key University figures released an open letter this month defending Cambridge's access efforts, saying that while the University only admitted 58 black students in 2017, they claimed that the "truly shocking statistic is that this represents a third (33%) of all black students admitted to higher education in the UK that year who attained A*A*A at A-level."
The letter also said that they have specific access initiatives aimed at BME students, with the Target Oxbridge programme set to "engage 160 prospective black students in 2018-2019."
CUSU Access and Funding Officer Olivia Hylton-Pennant declined to sign the open letter, saying that "the University has no clear plan to increase the number of British BME students", or to "engage a wide range of stakeholders to support them in their efforts."