University leadership release open letter defending Cambridge's access schemes
The open letter, signed by Pro-vice-chancellor for Education Graham Virgo, comes amid national controversy surrounding Cambridge access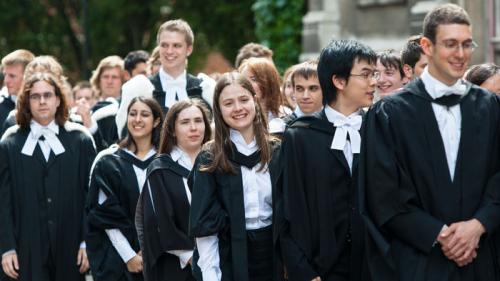 A number of senior University figures from the Cambridge Admissions Office, including Pro-vice-chancellor for Education Graham Virgo, have released an open letter defending Cambridge's access initiatives, and criticising a conversation around diversity in admissions that they said "undermines the progress made in access and the value of a Cambridge education."
The letter was signed by Director of the Cambridge Admissions Office Jon Beard, and Dr Sam Lucy, Director of Admissions for the Cambridge Colleges. They called for debate around admissions to be "fair and transparent and supported by evidence," and added that the 22% of students admitted to the University in 2017 who identified as BME marked "the highest proportion on record," along with the highest proportion of students coming from state schools in 30 years, at 64%.
Cambridge and Oxford have recently come under fire for low success rates for BME applicants, with only 12.8% and 13% of black Caribbean applicants successful at Cambridge and Oxford respectively.
The letter countered suggestions "that the University should lower its entry requirements to accommodate a more diverse intake." Instead, they said "we will not waver in our commitment to academic excellence," and pointed to Cambridge's retention rate of 99% as evidence of "the quality of our unique collegiate education and of the pastoral care provided to all students."
CUSU Access and Funding Officer Olivia Hylton-Pennant announced in a blog post that she had been asked to sign the letter, but "respectfully declined." She said that "the University has no clear plan to increase the number of British BME students", or to "engage a wide range of stakeholders to support them in their efforts." On these grounds, she cannot "defend its current work".
Hylton-Pennant also said that "too often", the University commits to widening participation in an attempt to escape "Bad PR", pointing to the case of Abdullah Kattineh last month.
Kattineh is a student from Syria who received a scholarship after an open letter in his support gained 400 signatures.
Hylton-Pennant said: "It is essential for those at the top to take responsibility for actively targeting BME students to ensure an inclusive student body".
Cambridge announced last month that it is in the process of introducing a foundation year for educationally-disadvantaged students. The authors of the letter highlighted this as a way of "creating additional opportunities for those who could benefit from and contribute to life in Cambridge but who would not otherwise be able to meet our high entry standards."
They also noted other access initiatives the University runs, including Target Oxbridge, a programme funded by Oxford and Cambridge, and one that they claimed will "engage 160 prospective black students in 2018-2019."
The authors of the letter also "committed [the University] to playing our part in facilitating social mobility", focusing on the access gap facing BME students in particular. While noting that Cambridge admitted 58 black students in 2017, they said the "truly shocking statistic is that this represents a third (33%) of all black students admitted to higher education in the UK that year who attained A*A*A at A-level."
They added: Cambridge "cannot single-handedly fix this endemic problem of academic attainment which afflicts all levels of education and society as a whole, reflecting deeper-seated inequalities across the country."