GU and iCUSU leaders throw support behind second Brexit referendum
The two groups, claiming to speak on behalf of around 12,000 Cambridge students collectively, have called for a vote on the terms of Britain's exit from the EU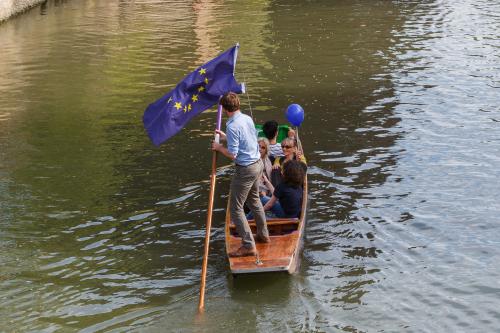 The leaders of two of Cambridge's biggest student groups have thrown the support of the students they represent behind a referendum on the terms of Britain's exit from the European Union.
The Graduate Union (GU) and CUSU International Students' Campaign (iCUSU) have both signed an open letter, organised by anti-Brexit group For our Future's Sake (FFS), which calls for a second national vote on the outcome of ongoing negotiations between the UK and EU.
The letter, which was published on Sunday, says "we call on our elected leaders to deliver on a people's vote on the Brexit Deal so that young people can once and for all have a say on their futures". It adds: "We are firmly of the belief that it is in our member's [sic] interests to retain the benefits of European Union membership".
Britain is currently set to exit the EU on 29th March 2019, with talks currently taking place to set the terms under which it will leave. Calls for a referendum on the term of Britain's withdrawal have been the subject of intense debate over recent months, with a YouGov poll last month finding 44% of respondents believed the public should have a vote on the resulting deal.
The leadership of FFS, which bills itself as "a movement of young people and students" aiming to stop Brexit, includes NUS Vice-president for Higher Education, Amatey Doku – formerly CUSU president – who is acting as a spokesperson for the group.
The GU and iCUSU executive committees both took the decision to sign without widely consulting the bodies they represent, justifying their support on the basis of earlier votes. The letter has received about 120 signatures from student leaders, who claim to represent "just under one million students". Together, the GU and iCUSU represent around 12,000 of Cambridge's students.
Darshana Joshi, president of the GU – which represents roughly 10,000 postgraduate and mature students in Cambridge – told Varsity: "I signed the letter in my individual capacity as the elected representative of all graduate students, as it was on a tight timeline when the proposal was brought to me.
"However, my decision to sign the open letter relied on the fact that Brexit is a matter that severely impacts our membership in immediate and long-term future and several concerns have been raised by the UK HE and research sector in general."
Joshi said that the GU's executive committee had approved of her decision to sign, but that the GU would be seeking a mandate from its Council before campaigning further.
Leo Paillard, chair of iCUSU – which represents around 9,000 EU and overseas students, many of them postgraduates – said: "The matter has indeed been discussed among committee members, in accordance with iCUSU's stance on the rights of EU/EEA/Swiss students to have their current rights to higher education preserved in the UK, and particularly in Cambridge"
He added: "Our constituent body is made of all international students of the university and we obviously expect them to have a broad spectrum of opinions on the topic of the UK's membership of the European Union."
"However," he said, "the current iCUSU committee has been elected on a platform of defending EU/EEA/Swiss students' rights to education at Cambridge, and we thus welcomed FFS's call for a second referendum as one way of making young British voices heard, as the ability to travel and study abroad freely in the EU is a reciprocal and dearly valued freedom that we are committed to defend with our members"
Daisy Eyre, president of CUSU, Cambridge's largest student group, has not added her signature to the letter, saying there had been "not enough time" to consult with students.
Referring to the letter, Eyre said "I personally support it, but I can't sign it", adding that she and President-elect Evie Aspinall had consulted and decided to delay any vote on whether to support a second referendum until October, when CUSU Council will next meet.
Aspinall said: "We decided not to put the motion forward on Monday as it would ultimately be myself and next year's sabbs that would act on the policy."
She added: "As we don't take office until July we have yet to coordinate and plan as a sabbatical team what our main objectives and vision will be for the next year. As such I was wary of quickly proposing a motion without proper thought as to whether it was something myself, the sabbatical team or students in general would want to prioritise next year."
"I remain open to the possibility of passing a motion on campaigning for a second Brexit referendum in October if we believe it to be a priority for Cambridge students," Aspinall said.
Cambridge University Conservative Association (CUCA), which opposes a second referendum, criticised the GU and iCUSU for signing the letter on behalf of students. "To suggest 'all' students have demanded this is pernicious falsification and CUCA demands that they remove any implication that they have signed this letter on behalf of all Cambridge students," its committee said in a statement.