CUSU pushes for acceptable alternative to cancelled Homerton bus service
An open letter warns the University that disabled students' access to education has been affected following the route change last year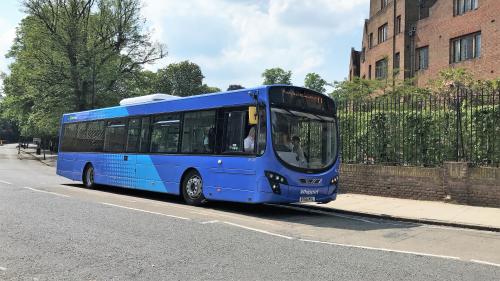 The CUSU Disabled Students' Campaign has released an open letter and petition calling on the University to introduce a workable transport alternative for students at Homerton and the Faculty of Education, who no longer have a stop on the University's bus route.
In January 2017 the University-subsidised Uni4 bus service was replaced by the 'Universal' bus service, also subsidised by the University. The University's Planning and Resources Committee approved the change to the bus route, despite protests from CUSU Disabled Students' Campaign and a petition launched by Homerton students in October 2016. The 2016 petition received over 1,300 signatures, while the new petition has already garnered over 100 signatures.
The open letter said that "fears students held about not being able to attend lectures and supervisions have come true," adding that "many students have lost what was a vital lifeline to the city centre, as well as a link to services like the University's Nursery."
Explained: Why did the University end the service passing by Hills Road?
The University of Cambridge, in partnership with Whippet, replaced the 'Uni4' bus route with the 'Universal' service in late 2016, in order to connect West Cambridge with Cambridge Railway Station and to offer an efficient service between Addenbrooke's hospital and the Cambridge Biomedical Campus.
A University spokesperson told Varsity that the 'Universal' service "benefits university members and the general public, providing cheaper fares for those needing to travel to some of the busiest areas in the city, including Addenbrooke's Hospital."
They added that the 'Universal' service "provided more frequent journeys and services on Saturdays and simpler fares," and "continued to provide connections between the city centre, West Cambridge and Madingley Road Park and Ride."
While the letter noted that "the change of route came in order to service more students, and that this may now be the case," it emphasised that "the University must also take extra care to ensure that disabled students have access to suitable and accessible transport".
The change has been felt most keenly by members of Homerton's disabled student population. Georgina Taylor, a second-year linguist at Homerton, suffers from chronic pain and chronic fatigue, and is thus unable to cycle. She told Varsity that the cancelled service "leaves us feeling even more cut off" from the University's academic sites, despite Homerton being the University's largest college by student population.
Taylor added that the service was something she "really relied on" and she now either walks for 45 minutes to Sidgwick Site, which aggravates her fatigue, or she gets a bus to Cambridge Station and changes to the Uni 4 bus, a journey of 30 minutes as opposed to the previous one of 15. The alternative bus route is more expensive for Homerton students than the previous, subsidised, £1 service.
Homerton JCR Disabilities Officer Rosa Burgoyne added that the change "felt quite isolating, and like Homerton was being distanced from the rest of the University."
However, both Burgoyne and Taylor have praised efforts on the part of Homerton to address the situation. Taylor noted that Principal Geoffrey Warde "really cares about it and he's really working with disabled students campaign as well because it affects all Homerton students, but disproportionately disabled students."
Although some disabled students at Homerton qualify for medical taxis, Taylor noted that "if you don't qualify for that or it hasn't gone through yet, you're left paying out of your own pocket for getting to your lectures."
In response, the University said that changes to the bus service were made after a "long process of discussion with the relevant University committees." It said that information was supplied to those on Hill's Road affected by the change, including providing information about alternative bus services that could be used which "have stops outside major locations such as Homerton College."