Trinity Hall cancels Crescents Garden Party following leaked video
The annual drinking society event was cancelled in response to a student who was filmed mocking 'inclusivity' at a Caesarian Sunday event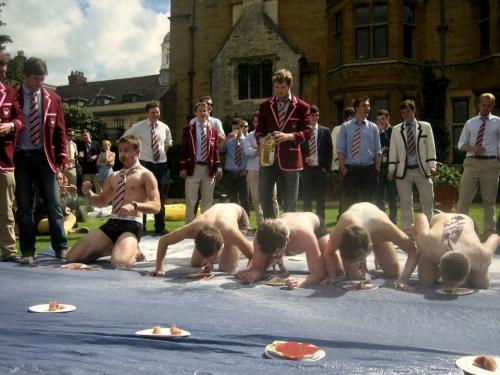 The annual May Week garden party organised by the Trinity Hall Crescents, an all-male drinking society, has been cancelled by Trinity Hall.
The decision by the College follows the release of a video depicting a Trinity Hall student calling "inclusivity" the "single biggest problem facing the Crescents in the modern age". The video, which later shows the student saying, "I swim like someone who's never had the money to go swimming", was filmed at an event on Caesarian Sunday and later published on the Grudgebridge Facebook page.
The president of the drinking society told Varsity that the speaker was "not affiliated with the Crescents", but noted that a number of the students present were members of the society.
In a statement, a spokesperson for the College said: "Though the man was not a member of the society, the group has issued an unreserved apology for these remarks and emphasised it in no way condones any of the views and sentiments expressed.
"The group also added that it remains committed to being an open and inclusive society, and discrimination in any form is completely against its values and the behaviour it expects from its members."
The Crescents' Garden Party, advertised as having "unlimited flavoured alcohol" and a "fine dining brunch menu", serves as a significant source of revenue for the drinking society. The 2018 May Week event had been planned for Sunday 17th June in the Trinity Hall Fellows' Garden, and had been priced at £16 per person. The event page had promised attendees a day of "wholesome fun for all the family", as well as "the usual surprises".
The garden party cancellation is the latest in a series of May Week cancellations. Trinity Hall cancelled its annual June Event earlier this year due to lacklustre ticket sales, while plans for the Gonville & Caius May Ball were halted due to "unforeseen changes" to the committee amid a "major kitchen refurbishment". The Newnham College Summer Soirée committee also cancelled their May Week event due to poor ticket sales. 
Trinity Hall has said that it will be investigating further the incident depicted in the video. Acting Senior Tutor Dr William O'Reilly said in an email to Trinity Hall students: "I do not wish to prejudge the outcome of that investigation but wish to assure you that the College will not allow the unacceptable behaviour of a minority impinge on the lives of the majority". O'Reilly added, "we are here as scholars to learn with, and from each other; that opportunity is the only privilege worth celebrating."