Adonian society faces closure after Peterhouse stops hosting dinners
An email by one of the notorious group's organisers says "Peterhouse has decided not to host further dinners for us and, as a consequence, no further functions are planned"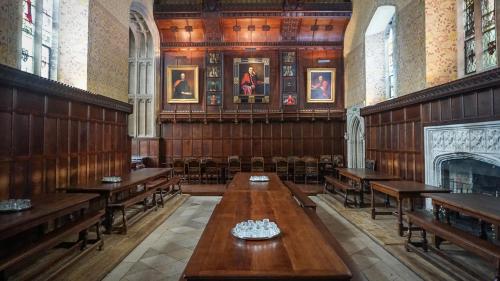 The days of the Adonians – one of Cambridge's most infamous 'secret' societies – may have come to an end, after long-time host Peterhouse decided to kick out the dining group.
The society, which holds all-male, invitation-only events, has long been a source of gossip and speculation. Its candlelit dinners were once described by Varsity as a "gay Cambridge institution".
In an email to Adonians this morning, its organiser said: "Those of you who have attended dinners in the past will be saddened to learn that the March dinner was the last. Peterhouse has decided not to host further dinners for us and, as a consequence, no further functions are planned."
"It was fitting that the final dinner was held in the Peterhouse Combination Room, where the dining society began all those years ago," they added.
A well-connected member of the society told Varsity that the move was not wholly unexpected, saying: "Tickets have been getting gradually more expensive. I think Peterhouse realised that it wasn't actually a university society a few years ago and have been trying to shake them off by making them pay normal commercial rates and having their dinners outside of termtime."
Peterhouse declined a request to comment.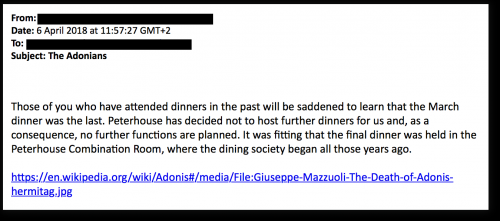 One of the group's organisers has been contacted for further information.
A Cambridge third-year undergraduate, who was recent attendee at an Adonians dinner, told Varsity: "I only went once but was one of my favourite experiences in Cambridge. I didn't experience any issues. It was really cool that in one room were three or four generations of (mostly gay and bisexual) men sharing and comparing their experiences of the same institution at different times.
"It was really interesting for me to hear and you could tell how happy it made them to share their stories and the pride they had in how far the uni had come. I think it's a shame that's been lost."
The Adonians, often called the Adonian Society, whose dinners cost a reported £75 a head to attend, is not an official University group, and is understood to find attendees largely through word-of-mouth. The society was described in The Wall Street Journal as "a select group of undergraduates and their faculty admirers, along with hangers-on from the British elite".
Its name is drawn from Adonis, a figure from Greek mythology whose name has become a byword for particularly handsome young men.
In an anonymous review of one of the group's dinners, published in 2013, a Varsity writer said: "Endless claret. The best food in Cambridge. The wonderful moment when the lights go out. Fellow diners old enough to have fagged for your grandfather at Eton. Myths abound, but to my surprise, the Adonians is a charming mixture of all these things (except for the food), marked by a particularly self-conscious awkwardness."
In 2016, The Tab Cambridge reported that the the Adonians had been forced to move its events to outside of term time, something which the University said had nothing to do with the society itself, and was due only to high demand for use of Peterhouse's hall during full term.