Shakira Martin re-elected NUS president in landslide
Martin took the election on the first round of voting, easily seeing off her rivals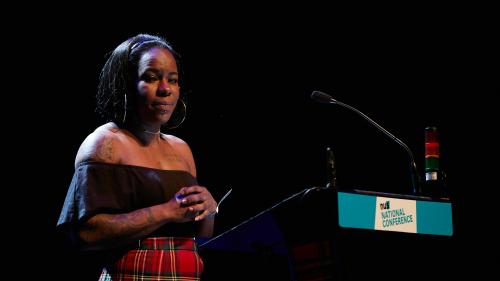 Shakira Martin, president of the National Union of Students (NUS), has been elected for a second one-year term in a landslide victory, defeating hard-left challenger Sayaha James and outsider candidate Momin Saqib.
Martin won the vote at the NUS National Conference in Glasgow this afternoon, with 352 votes, surpassing the first-round victory quota of 345. Saqib won 168 votes, while 104 delegates voted for James. 66 delegates voted to re-open nominations (RON).
Considered to be from the moderate wing of the organisation, Martin has led the NUS towards the political centre ground after her predecessor, Malia Bouattia, had focused heavily on protesting and used the organisation to advocate for far-left politics.
Martin's re-election platform included commitments to back a "minimum living income" for all students, to fight for the return of grants, and to launch a "national student rights framework" to lobby for decreasing university costs and improving student facilities, including the eduroam WiFi service.
Thank you so much everyone for putting your faith in me for one more year, I cannot explain how humbled and thankful I am! #NUSConference I urge you to vote for the candidates below, to give NUS a truly phenomenal team that wins for students every single day!!! pic.twitter.com/SmGBBCYSBx

- Shakira Martin (@ShakiraSweet1) 28 March 2018
Her success bodes well for Amatey Doku, CUSU's former president, who is standing for re-election as vice-president for higher education. Doku has been a close ally of Martin during the past year, and both represent the same centrist faction within the NUS.
The presidential election split Cambridge's six delegates, who are voting on behalf of the student body. CUSU's president, Daisy Eyre, its women's officer, Lola Olufemi, and Miriam Gauntlett all voted RON. Connor MacDonald and Carine Valarché both voted for Martin, with Angus Satow voting for James.
"I'm happy with the result," MacDonald said, "although we must do much more to improve engagement."
Explaining her RON vote, Daisy Eyre said: "I am disappointed by the candidates for NUS President this year. I do not believe that Shakira has done a good enough job for students – in a year when student activism has been energetic and passionate, she has been absent and unsupportive. Unfortunately, neither of the candidates contesting her had the experience to get my vote and I think that students deserve better."
Satow told Varsity: "I voted Sahaya James as the best candidate available for a grassroots student movement. But the truth is that students don't need an out-of-touch and dysfunctional national union to take action on the ground. Away from the world of procedural motions and factionalism there is an actual struggle: for free education, climate justice, liberation and more."
"The last two days have shown me we have much more power organising on the ground than at an increasingly irrelevant national union," he said.
The election follows a controversy over allegations of bullying within the organisation, with Shakira Martin admitting she came close to resigning after she was accused of harassing and manipulating colleagues. Martin, who is known for her direct manner, claimed the allegations were politically motivated and made against her partly because she is "a black, working-class woman".
This year's competition saw old friends become political rivals, with Shakira Martin and Sahaya James facing off just three years after being pictured supporting each other's earlier campaigns at the 2015 NUS conference. Martin moved away from the political left of the NUS during her time as NUS vice-president for further education, which she held for two years before being elected as NUS president in 2017.