Cambridge reveals nearly 20% gender pay gap in new figures
Men dominated the highest pay quartile last year, as well as receiving higher bonuses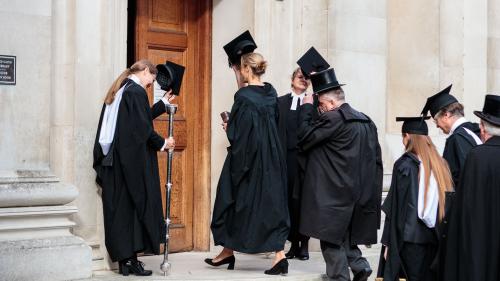 Cambridge's mean gender pay gap for last year was 19.6%, according to a new report mandated under new government regulations, with men also receiving higher average bonuses.
Its median pay gap – showing the pay gap between the middle male and female employ from across the University – was 15%, meaning Cambridge is ranked just above the national average for its mean pay gap, but below for the median.
The University was legally obliged to publish figures on its gender pay gap by the 30th of March, as set out in the 2010 Equality Act. As of April 2017, the Equality Act regulations require organisations of more than 250 employees, both in the public and the private and voluntary sectors, to publish gender pay gap data.
The figures, which in Cambridge's case were calculated using employees from Cambridge University Press and the University of Cambridge Local Examinations Syndicate as well as the University itself, represent the difference in average hourly pay received by men and women across the organisations.
Although women at Cambridge were slightly more likely than men to receive a bonus in 2017 – at 20.8% to 18.3% – the average bonus payments made to men were higher, with a 65.6% gap in the mean bonus pay received by men and women. The University's report stated that "bonus payments are generally linked to salary and therefore affected by vertical segregation".
The report also details the proportion of men and women in each pay quartile, with men making up 63.9% of the top quartile. Women outnumber men in the remaining three quartiles, however, and dominate the lowest pay quartile – made up of 61.4% women.
Cambridge's overall mean pay gap figure of 19.6% puts it ahead of some of its fellow Russell Group universities. Bristol and Leeds universities have reported pay gaps of 21.1% and 22.5% respectively. Manchester and Edinburgh's gaps were lower, however, at 17.1% and 17.7% respectively. The University of York came in just ahead of Cambridge with a mean gap of 19.3%.
Just two Cambridge colleges, Emmanuel and Pembroke, have submitted their pay gap figures so far. Emmanuel's mean gap is relatively small, at 5%, while Pembroke's came in at 20.3%.
Cambridge has published its gender pay gap data once every 2 years since 2008. Before the 2017 regulations came into practice, the gender pay gap was considered the gap in annual average basic income of men and women; now it takes the form of average hourly pay.
Varsity analysis found that the 2016 average pay gap between men and women was highest in the School of the Physical Sciences, at 20.7%, followed by the School of Humanities and Social Sciences at 18.6%. The gap was lowest in the School of Arts and Humanities, at 7.7%. While the methodology used to record the pay gap has changed since 2016, there was a steady reduction in the gap from 23.4% in 2008 to 21.9% in 2012, before a sharper drop to 18.6% in 2016.
Writing in the report, Professor Sarah Colvin, a Professor of German and 'Gender Equality Champion' said that "Cambridge has the capacity and will to show national and international leadership in achieving not only equal pay but equal representation in senior roles, and more broadly in helping create a stepchange in how organisations think about work and gender."
"The University's mission is to contribute to society through the pursuit of education, learning, and research at the highest international levels of excellence, and we will contribute most fully to society by creating the conditions to recognise and reward talent wherever it exists", she added.
The University lists several steps it is taking towards addressing the gap. These include maintaining the prominence of closing the gender pay gap in University-wide strategy and practice, developing and promoting initiatives to address the under-representation of women at senior levels, reviewing and revising recruitment and reward mechanisms, and developing and promoting measures to help employees manage their work-life balance.
A spokesperson from the University told Varsity that Cambridge seeks to be "an environment where diversity is embraced, and where freedom of expression and thought are celebrated. Underpinning this commitment are the core principles of equal pay for work of equal value, freedom from discrimination, and recognition of all staff as our greatest asset.
"The reviews show that our gender pay gap has continued to reduce year-on-year, but we recognise that this progress must be accelerated.What our figures indicate is that we need to promote access throughout the University, and at all levels – encouraging more women into professorships and positions of senior leadership."
The gender pay gap has been frequently cited throughout the recent staff strikes. A Cambridge UCU spokesperson told Varsity that: "The aims of the strike are fully aligned with the need to close the pay gap between men and women. Pensions are deferred pay, and the proposed changes will have the worst impact on those on the lowest salaries."
They also criticised the report for failing to "recognise the over-representation of women in short-term, casualised and fractional contracts; women are disproportionately employed on salaries which are not enough to live off or necessitate taking on extra work. Moreover, it should be explicitly noted that ethnic minority women, those with disabilities and from low-income backgrounds bear the brunt of greater inequality."
"The gap is not closing fast enough," they continued, "even after taking into account the length of time for academic career progression to the highest ranks. The University's attempts to improve the gender pay gap, such as the much-celebrated Athena Swan awards, are simply not working."