Siyang Wei leads Varsity poll on final day of voting
● Newnham student takes solid lead in poll of over 700 students
● Huge single-college turnouts could mean Aspinall or MacDonald still snatch victory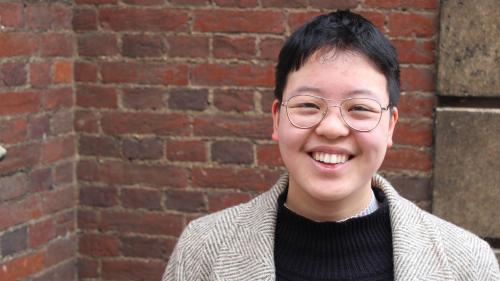 Siyang Wei is in pole position to take the CUSU presidency as voting enters its final day, but huge turnouts from individual colleges could still swing the vote.
Varsity's poll of University members shows Wei in a comfortable lead, with 41.6% of respondents backing the Newnham student. Connor MacDonald and Evie Aspinall appear to be in a close race for second place, taking 27.0% and 25.2% of the vote respectively.
Wei's campaign has been gaining traction in recent days following a strong showing at the hustings on Sunday. Wei has been touring colleges with their campaign team in recent days, flyering in recent days at Trinity, Trinity Hall, Robinson, and King's. MacDonald, the only candidate with experience as a JCR president, appears to be trailing, having tripped up on the issue of Prevent at hustings. Evie Aspinall is in last place, but running vote breakdowns released by CUSU show that students at her college, Pembroke, have shown out to vote in huge numbers.
Crucially, Wei appears to be short of the margin of victory needed for them to win the vote on the first ballot, meaning that second preference votes could swing the election. Based on Varsity's poll, Wei would still be the strong favourite in the event of a second ballot; however, there remains the possibility of an upset, as supporters of MacDonald could be expected throw their weight overwhelmingly behind Aspinall in a second ballot if their preferred candidate is eliminated, given she is the de facto 'centrist' candidate in the election.
A clash of colleges?
Candidates will be counting on their colleges to produce a core voting block. We used poll data, known turnout data and overall college sizes to figure out what kind of support the candidates might receive. Each block represents 10 students, rounded to nearest 10. (Data checked 5pm Thursday)
The reverse is true to a lesser extent, as voters for Aspinall, who has run on a platform of increasing engagement, may be more attracted to MacDonald than to Wei, who is seen as a more establishment candidate.
Ahead of the close of polling at 5pm today, candidates will be making the final push to win over voters. Turnout may prove key as candidates seek to mop up votes in colleges that are their strongholds. Despite Wei's lead in the Varsity poll, turnout at Newnham, currently at 24.6%, is lower than at Emmanuel, where MacDonald studies, and both are substantially behind Aspinall's college, Pembroke, where 37.4% of students had voted with 24 hours left before the close of the ballot.
Christ's College currently leads the way in terms of turnout, with data revealing almost 40% of the college has cast a ballot – suggesting strong support for Access Officer candidate Shadab Ahmed. Four more colleges – Pembroke, Trinity Hall, Gonville & Caius, and Emmanuel – have recorded a turnout of more than 25%.
All three presidential candidates have commanding leads at their own colleges, with the Varsity poll suggesting Wei has won 78% of votes among Newnham students, Aspinall has won 77% of the Pembroke vote, and that 69% of Emmanuel students back MacDonald. While Wei was the leading candidate at more colleges than any other candidate, winning half of the colleges that submitted a large enough sample, strong performances in colleges with high turnout from both MacDonald (who our poll suggests has won a plurality of votes at Christ's and Caius) and Aspinall (the favoured choice of Selwyn students) suggests that all three candidates remain very much in the running.
There was a stark divide in the voting preferences of men and women. Turnout for both is virtually identical, and in both cases about a quarter of voters backed Evie Aspinall; however, a massive 68% of MacDonald voters are men, while 62% of voters for Wei are women. The small number of non-binary voters backed Wei unanimously.
The presidential campaign has heated up in recent days, following hustings last Sunday. The most notable exchange came on the issue of Prevent, where Wei and Aspinall both took a strong line against the policy, calling it "incredibly dangerous" and "obviously racist" respectively. MacDonald, meanwhile, called for the policy to be "more effectively and more adequately" implemented, receiving a muted response from the hustings audience.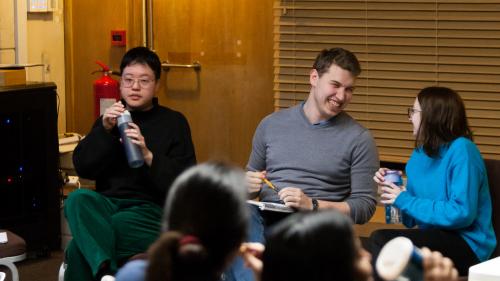 Elsewhere, MacDonald accused his fellow candidates of being too ready to "accept CUSU as it is". Wei suggested that misrepresented their position, while Aspinall highlighted engaging CUSU with college JCRs as her key policy.
All candidates have received endorsements from Cambridge's political societies. Cambridge University Labour Club (CULC) backed its ex-chair Siyang Wei, while Cambridge University Conservative Association (CUCA) backed Connor MacDonald, the organisation's incumbent chair. The Cambridge University Liberal Association (CULA) issued a joint endorsement of Aspinall and MacDonald, without expressing a preference for either candidate.
More recently, controversy erupted again following a blog post made by student Oliver Black criticising Wei. After being told to remove his post by CUSU's elections committee, an action that Black said amounted to "stifling freedom of speech", Black responded with a second post further criticising Wei.
Outside of the presidential race, elections are also taking place for the other CUSU sabbatical roles. Three of these, Women's Officer, Education Officer, and Disabled Students' Officer, are uncontested elections, and will likely be comfortable wins for Claire Sosienski Smith, Matt Kite, and Emrys Travis respectively.
The Access Officer race has been the most active of the contested competitions. Following hustings on Sunday, Shadab Ahmed accused his opponent Rhiannon Melliar-Smith of defaming him, suggesting that Melliar-Smith's focus on her state school background "implied that I am not also someone from a state school background". The Elections Committee refused to uphold Ahmed's complaint, describing Melliar-Smith's comments as "not defamatory".
The Welfare Officer role, also contested, has remained rather more muted than the other election campaigns, with candidates Christine Pungong and Walinase Chinula seemingly content with more conventional election tactics.
Polling will close at 5pm this afternoon, ahead of a formal declaration of results at 8pm.
Can the Emmanu-spell be broken? Emma looks to end three years of losses
Connor MacDonald is the latest in a series of three Emmanuelites to make a bid for the CUSU presidency. He will be hoping that he has a bit more luck than his forerunners: Keir Murison (2017) and John Sime (2016) both came bottom of the ballot in their years, with both seemingly failing to draw much support from within their own colleges.
Varsity's polling suggests MacDonald, the former president of Emmanuel College Students' Union (ECSU), is much more popular within his own College than Murison was – but still nearly a third of students backed other candidates. The results paint a picture of a college divided. To reinforce this point, MacDonald's successor in charge at ECSU – Katie Nelson – has publicly backed Wei instead.
All the election news, in one place
Comprehensive news and analysis on the CUSU/GU elections, collected.
Visit Varsity's Elections 2018 hub.