Elections Committee accused of stifling free speech after condemning anti-Wei blog post
Oliver Black, author of a post urging students not to vote for Siyang Wei, was found to have breached electoral rules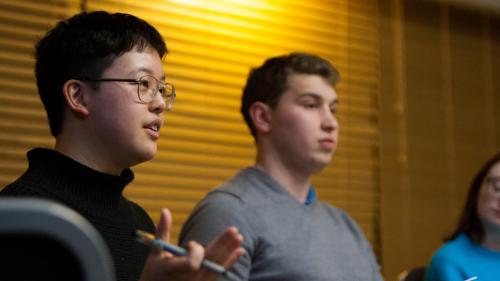 The writer of an an inflammatory blog post entitled 'I urge you not to vote Siyang Wei for CUSU President', the claims of which CUSU presidential candidate Siyang Wei has disputed, has accused the Elections Committee of "stifling freedom of speech", after they decided that the post had violated electoral rules.
Earlier today, the Elections Committee ruled that a blog post by student Oliver Black had breached an elections rule prohibiting personal or derogatory comments about candidates. The Committee deemed the article's comments personal on the grounds that it "makes reference to a personal disagreement with Siyang, but none to their manifesto policies".
Both Black and Wei have offered differing accounts a series of encounters last year, from which Black concluded that Wei is "someone with firebrand and aggressive approaches to social change", and adding: "I don't believe such a person can either enact real change in university culture, nor effectively lead CUSU through the year ahead". He then urged readers to vote for the two other candidates, Connor MacDonald and Evie Aspinall.
In a Facebook post on their personal page, responding to Black, Wei said: "I believe there have been several misunderstandings between us, and it is unfortunate that he has publicly assumed so much about my character on the basis of these".
Black's post, published yesterday, describes three encounters with CUSU presidential candidate Siyang Wei – all of which Wei has contested.
The first incident occurred at last year's annual general meeting of the Association of British and Chinese University Students (ABACUS), in which Black was running to be vice president.
Wei asked him: "What do you think the role of white people should be in ABACUS?", which Wei claims he interpreted as asking if he had experienced racism as a white person – an interpretation he withdrew after Wei responded: "this was not what I was asking". In their post today, Wei explained: "I was rather trying to ascertain his awareness of race relations and the specific cultural relationship between white men and East Asian women, and cultures more generally."
Black also alleged that Wei "followed up with a comment accusing me of 'invading Asian safe spaces'", but has since distanced himself from the claim, saying that he "could be mistaken". He explained: "After asking their question about white people they did try to ask another question, and I believe they did mention 'safe spaces', but was on the verge of tears, and quite quiet."
Black said that following the meeting, he approached Wei, hoping to "work with them to both understand and address them", but claimed that "they never got back to me."
Wei said that this lack of response was because they had discussed the issue with other members of the ABACUS committee before Black contacted them. As they thought the discussion had been productive, they believed the committee would contact Black about its conclusions, adding: "perhaps this assumption was incorrect."
"I also did not wish to continue the discussion with Oliver personally," Wei explained, "as I had found the hustings to be personally upsetting".
Wei added that they "cried a lot" following this, and said this "was very visible and a bit ugly, and I also found it quite embarrassing".
"I therefore did not believe that this discussion would be particularly productive for either of us, or make much change to the culture of ABACUS as a whole."
In his original post, Black had cited one of Wei's Facebook posts from the day after the ABACUS general meeting, in which Wei wrote: "as ever, white men get everything and I get maybe 2 things". Black remarked that he "sincerely" hoped "this wasn't in direct response to me winning a democratic election through my skills and expertise".
Wei denied referencing Black in the post, and said: "it referred to my own dismay at the hostile reception and lack of understanding that my concerns as a British Chinese person received when voiced in a group ostensibly centred around British Chinese people."
Black has refused to take down the post in in response to the Elections Committee's ruling. He also claimed in a post that the committee sent an "intimidating" message – wording which he later altered to say "officious" – and published their exchange. He added: "I would also question that CUSU is overstretching their remit by trying to stifle individual student's freedom of speech."
In a statement to Varsity, the Elections Committee said that their message to Black "was not a demand, but a request in the light of his breach of [an electoral] rule."
In their Facebook post, Wei added: "I am glad that Oliver has had a good time on ABACUS's committee and that he has made many friends there; I will always regret that I have not during my time here had the capacity to do more to make cultural change in my own community."
All the election news, in one place
Comprehensive news and analysis on the CUSU/GU elections, collected.
Visit Varsity's Elections 2018 hub.