Barbara Stocking to step down as Murray Edwards president for Oxfam inquiry
College vice-president Dr Ruchi Sinnatamby will take over until a fellow can be appointed to Stocking's role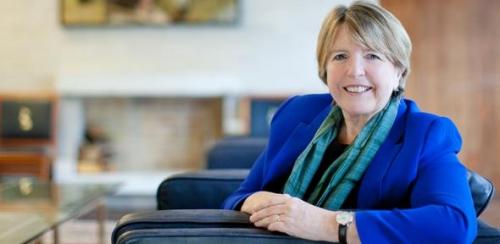 President of Murray Edwards, Dame Barbara Stocking, will take a six-week period of unpaid leave starting tomorrow to prepare for an inquiry into Oxfam's actions in Haiti in 2011 under her governance.
Stocking, who has served as the college's president since 2013, was alleged in February this year to have covered up in her time as CEO of Oxfam that senior Oxfam staff exploited young women in Haiti for sex after the earthquake in 2011. She has been called to participate in the Charity Commission and a Select Committee inquiry into Oxfam's actions in Haiti.
In an email sent to Murray Edwards students this evening, the college governing body announced that it had accepted Stocking's request to take unpaid leave starting tomorrow, until 17th April.
The governing body will now work to appoint an acting president from among the college's fellows for the period of Dame Stocking's absence. As they consider their appointment, college vice-president, Dr Ruchi Sinnatamby, will serve as the president's deputy, presiding over meetings of the governing body and the council.
An investigation by The Times revealed that following the charity's inquiry into sexual misconduct in 2011, Stocking offered the country director, Roland van Hauwermeiren, "a phased and dignified exit" to avoid the "potentially serious implications" for the charity if he was fired.
The allegations sparked widespread outrage. In the wake of the revelations, Stocking postponed her scheduled appearance at the Union due to "considerable media attention". The Murray Edwards student union, MECSU, issued a letter two weeks after Stocking's actions came to light, condemning their college president, saying her actions called in question her "viability of protecting students' welfare, particularly that of BME students", and calling for a formal apology. Stocking then offered an apology in a statement to Varsity.
College authorities, however, have remained supportive of her. In a statement to Varsity, Murray Edwards said that the allegations were untrue and the Charity Commission was alerted to the incident at the time – a claim the commission disputed in The Times, saying that they never received the final report of the inquiry.