Melliar-Smith cleared of defamation in CUSU access race
Her opponent, Shadab Ahmed, accused her of "inappropriate" interjections which invalidated his experience as a working-class candidate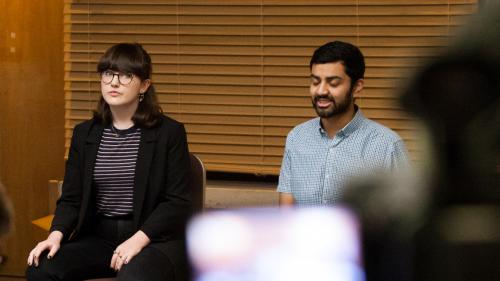 The CUSU Elections Committee has cleared Rhiannon Melliar-Smith, a candidate for CUSU access and funding officer, after her opponent Shadab Ahmed accused her of defamatory language following their hustings face-off yesterday evening.
In a post published by the Elections Committee this morning, they referenced Melliar-Smith's final sentence of the evening: "I am the only candidate with personal experience of applying from a state school."
While the Committee noted that Ahmed did not have a chance to respond to this, they judged the language not to be defamatory, and have requested that Ahmed "remove reference to Rhiannon defaming him."
The initial Facebook post, which at the time of writing, was still visible, saw Ahmed, of Christ's College, accuse Melliar-Smith, of Trinity Hall, of focussing "attention on herself as someone from a state school background," which supposedly placed him "in opposition to this."
He argued her interjections were "inappropriate" and that they "implied that [he is] not from a state school background". Ahmed claimed he was not given time to respond to these interjections, which "invalidated [his] experience as a marginalised, working class BME candidate, who struggled significantly to gain a place, and then acceptance, in Cambridge."
Melliar-Smith responded to the Elections Committee's ruling this morning, adding that she is "pleased" by the dismissal of Ahmed's "false and unfair allegations."
She said, "We are all in charge of our own narratives, and I am proud to be using my campaign and my voice to talk about the emotional realities of access policies at work."
In comment to Varsity, Melliar-Smith went further: "Talking about my experiences, throughout my time at this University, I have been stereotyped as an angry poor woman. That this narrative has persisted right into the heart of a campaign to be Access Officer - a role which should serve to eliminate such stereotypes - is, for me evidence of how far access work in Cambridge has to go."
Ahmed responded to the ruling, saying: "I thank the elections committee for looking into this matter. I am still disappointed with my competitor attempting to reduce the position of access officer as who spent a longer time in state school as that ignores the intricacies and complexities of access.
"I look forward to continuing my campaign and hope that my policies and experience truly show I am the person for the job."
At the hustings last night, the two candidates locked horns over existing access policies, as Melliar-Smith described a case of her director of studies not being aware that he only taught one student from a state-school background. Ahmed then referenced the "six flags" that tutors use to put a candidates socioeconomic background in context. Melliar-Smith responded by asking him if he thought the existing system means there is not a problem.
They also exchanged terse words over the pooling system, when Ahmed said privately-educated students are more likely to be picked up from the pool because they are "gunning for their tripos." Melliar-Smith then said, "l just want to say I went to a state school and I was gunning for my tripos."
In a comment to Varsity, Ahmed clarified he meant that privately-educated students are more likely to be perceived as prepared for tripos exams.
Melliar-Smith responded to Ahmed's accusations, saying: "I would suggest that Ahmed's statement derives from the fact that he underperformed during the hustings.
She added that her statement was "absolutely true," but was a "statement of fact" rather than derogatory language. She said that her "interjections were facilitated by the Chair of the Elections Committee himself, and he was consistently given opportunity to respond."
"My statement that I am the only candidate with 'personal experience of applying from a state school' is absolutely true and not defamatory in any way. A statement of fact is not a derogatory statement."
Ahmed did attend a state school until the age of 16, before moving to a private sixth-form on a full bursary. He said "this mirrors my situation here, where I am only at Cambridge because I receive the full Cambridge bursary, rent rebates and additional support from the Welsh government, amounting to over £14,000 per year."
All the election news, in one place
Comprehensive news and analysis on the CUSU/GU elections, collected.
Visit Varsity's Elections 2018 hub.