Access race erupts as Ahmed accuses Melliar-Smith of defamation
The dispute is centred around the candidates' educational background, but Melliar-Smith denies making any defamatory claim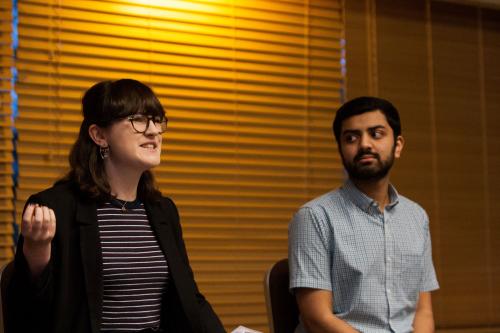 Shadab Ahmed, a candidate for CUSU Access Officer, has accused his opponent Rhiannon Melliar-Smith of defaming him in front of the press and the audience at CUSU's Official Hustings.
Melliar-Smith has vehemently denied the accusation.
In a statement on his campaign's Facebook page, Ahmed wrote that Melliar-Smith's focus on her state school background and "interjections" during questioning "implied that I am not also someone from a state school background".
"At that point in hustings I was not given time to respond, invalidating my experience as a marginalised, working class BME candidate, who struggled significantly to gain a place, and then acceptance, in Cambridge."
Ahmed went to a state school until the age of 16, after which he was offered a full bursary to pay for his education at a private Sixth Form in Wales. Ahmed commented that "this mirrors my situation here, where I am only at Cambridge because I receive the full Cambridge bursary, rent rebates and additional support from the Welsh government, amounting to over £14,000 per year."
During hustings, Ahmed highlighted information that suggests private school students are more likely to be picked up from the pool because they "gunning for their Tripos". At this point Melliar-Smith responded: "l just want to say I went to a state school and I was gunning for my tripos."
Asked to clarify the remark Varsity, Ahmed said that he meant that private school students are perceived as more prepared for Tripos exams.
Furthermore, after Ahmed brought up the six flags used by admissions tutors to consider socioeconomic background, Melliar-Smith retorted, asking Ahmed if he thought that such a system meant that there was not a problem.
Melliar-Smith responded to Ahmed's accusations, saying: "I would suggest that Ahmed's statement derives from the fact that he underperformed during the hustings.
"My statement that I am the only candidate with 'personal experience of applying from a state school' is absolutely true and not defamatory in any way. A statement of fact is not a derogatory statement."
Melliar-Smith added that, "my interjections were facilitated by the Chair of the Elections Committee himself, and he was consistently given opportunity to respond."
"I made no reference to his personal background or personal experience. My campaign is a very personal one, deriving from my own experiences as a low-income woman from the North West, who applied from a state school she had attended for 7 years.
"This in absolutely no way places myself in opposition to him, but is a citation of my personal experience for this role. I am very saddened that my opponent would choose to respond in, what I would consider, an un-nuanced manner.
"I would absolutely welcome the Elections Committee look into this, and I look forward to seeing what they have to say."
All the election news, in one place
Comprehensive news and analysis on the CUSU/GU elections, collected.
Visit Varsity's Elections 2018 hub.