CUSU adopts anti-Prevent stance at Council
The student union has adopted a 'students not suspects' stance on the controversial counter-terror strategy, after nearly two years without a policy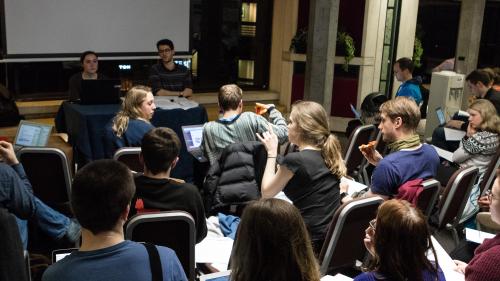 CUSU Council has adopted a 'students not suspects' stance tonight, vowing to oppose the government's controversial Prevent counter-terror strategy.
It marks the first time the student union has taken a direct policy stance on Prevent, though sabbatical officers have previously spoken out against it.
A motion passed this evening said: "The Government's counter-terrorism/security policy is fundamentally flawed in its approach", and is "ill-defined and open to abuse for political ends". There was only one abstention, with all other attendees voting in favour.
It added: "the Prevent Duty consistently targets Muslim people and BME people," and that it "fundamentally undermines human rights and freedom of speech".
The University's implementation of Prevent was criticised as "heavy-handed" last term, after an intervention made by the University administration in a panel discussion organised by the Palestine Society (PalSoc).
Academics have spoken out against Cambridge's implementation of Prevent, questioning the University's commitment to "light touch" compliance. Cambridge initially opposed the scheme, but was forced to comply after it was brought into law in 2016.
CUSU has never officially opposed Prevent in the past, with no motion on the topic having been brought to Council. Despite this, sabbatical officers have been vocal in their criticism of it, with CUSU president Daisy Eyre saying last term that its implementation was "leading to certain voices within the institution being privileged and others silenced."
At Council tonight, Eyre said: "We need to continue fighting with the University to make sure they put human rights about this Prevent duty", and called for a reform to Prevent training.
She said that some students might be afraid to participate in activism, out of a fear of being put under surveillance.
Eyre stressed that the motion is not a boycott, and that CUSU wished to keep its seat on the University's Prevent committee, in order to influence and monitor its actions. She said that the PalSoc event last term was the only time the central University had used the strategy to intervene in an event.
The motion mandates CUSU to lobby the University into adopting a 'rights-based' approach to implementing Prevent, citing Oxford's approach as exemplary. At Oxford, the steering group overseeing the strategy said that it must not infringe "the rights to free expression, academic freedom, autonomy, confidentiality, privacy and equal treatment under the law."
It also says the student union will "survey students about the impacts of Prevent on their education and wellbeing, thereby gathering data about the chilling effect of the duty."