Debates flare over Prevent strategy
Government anti-radicalisation scheme faces criticism in Cambridge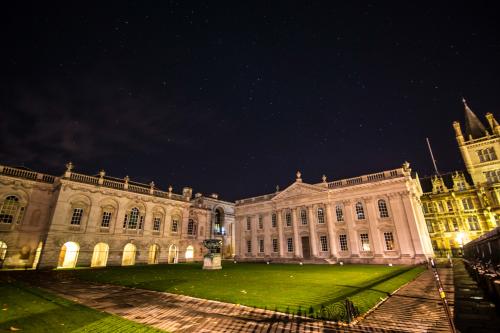 Resistance is growing within Cambridge towards the government's anti-radicalisation 'Prevent' strategy, and a debate about its effects is to be held next month after several senior university members backed a motion opposing its implementation.
A motion has been put before the University Council, which calls for the university to hold a meeting "open to students and to all employees of the University and Colleges", on the topic of Prevent. Sources have told Varsity it was signed by over 20 university professors and post-doc candidates.
In response, a discussion will take place at Senate House at 2pm on 10th May, at which students can give speeches of up to 15 minutes in length, expressing their thoughts and concerns regarding the legislation.
The Prevent legislation has caused widespread controversy, with critics describing it as biased against Muslim students, and creating a divisive narrative around students from ethnic minorities.
Despite opposition from schools and higher education institutions, including the University of Cambridge, the legislation was passed last year, requiring educational bodies to monitor their students for signs they may be vulnerable to radicalisation.
Many colleges have set up their own committees to monitor students, and an umbrella Prevent Committee for the entire university has been created. The only student representatives to sit on it will be the CUSU and GU presidents, who will be forced to leave during sensitive discussions.
There have been protests at numerous universities against the Prevent strategy, and the National Union of Teachers recently passed a motion which opposed it, saying the legislation caused "suspicion in the classroom and confusion in the staffroom". It has been reported that no action is taken in around 90 per cent of reported cases.
Speaking to Varsity, security expert and Professor of Security Engineering at the Computer Laboratory, Ross Anderson, emphasised the problems with Prevent.
He said that he initially opposed the Prevent scheme "as it's unlikely to do any good, based on the available evidence of how people get radicalised".
"Now [Prevent] has unfortunately passed into law", Anderson said, "the university has to comply with it, but the university also has to comply with human-rights law. This includes, for example, the right to privacy, which can only be infringed by means of explicit laws that also satisfy the test of being proportionate and necessary in a democratic society."
Anderson emphasised the strengths of the university's current system, including the proctorial system and college structure.
"Our traditional approach to balancing freedom of speech with public safety relied on the proctors who have handled the job rather well for many years," he said. "I have every confidence in their ability to do so in the future".
"I believe the risk of radicalisation in Cambridge is pretty low anyway because of the college system, which forces students to socialise with others from different backgrounds. The supervision system also helps, as do our clubs and societies, and the general ethos of the place.
"Back when I was an undergraduate in the 1970s, I cannot recall a single case of a student going off to join the IRA or the Baader-Meinhof gang, and although words were occasionally exchanged between Jewish and Palestinian students it stayed at that level and never escalated into anything unpleasant."
He added: "It is vital to maintain an inclusive community that is welcoming and supportive to all students and we must not tolerate any stigmatisation or marginalisation of students from particular religious or ethnic backgrounds. If Home Office guidance ever pushes in this direction we must resist it vigorously on human-rights grounds".
The motion to the University Council asks that university administrators "consider the impact of existing measures taken in view of the Prevent regulations, as well as anticipated and possible other measures; their likely effectiveness; their compatibility with academic freedom and human rights; and the appropriate governance of these measures".
Student unions frozen without council mandate
The legislation does not extend to cover student unions, but the official 'Prevent' guidance says that the government "expect student unions and societies to work closely with their institution and cooperate with the institutions' policies".
Priscilla Mensah, CUSU's President, has said that the student union "does not currently have a political position on the Prevent Legislation; a political position on Prevent would have to be decided by students through CUSU Council".
She added that she will be initiating a "student-led Prevent group, which will meet for the first time in Easter Term," on 4th May. She said that this "Prevent Taskforce" will be a place for "society, College and Faculty representatives to discuss with the GU and CUSU Presidents concerns about how Prevent is being implemented on the ground".
Mensah added: "It is imperative that students are made aware of, and understand the facts about how the Prevent legislation will impact Higher Education institutions. CUSU's main concern is ensuring that no student, student group or society is negatively impacted by the university and colleges' legal commitment to Prevent. I urge students to get in touch if they would like more information or clarification on the Duty".
Graduate Union (GU) President Chad Allen expressed his personal antipathy towards the Prevent strategy, but emphasised that the GU's hands were tied with regards to action.
"To be very clear," he said, "the GU has no formal policy on the Prevent strategy, as our Council have not made one. Obviously, the GU is subject to laws made by Parliament, and we'll comply with them. That being said, my personal view is that the Prevent strategy is misguided and counterproductive and I am very happy to participate in the burgeoning anti-Prevent movement at Cambridge".
Asked whether he was satisfied with the level of student representation on the university Prevent committee, Allen said: "Ideally, we'd have some representation from students outside CUSU and the GU – particularly from students active in societies which will be affected. However, I understand why all those put under a legal duty by Prevent are obliged to be members; and this makes the committee already very large".
"Pris[cilla Mensah], Amatey [Doku] and I will just have to make sure we fulfil our responsibility to represent students by engaging with and acting as the voice of those affected by the legislation.
Council minutes say that the university "would suggest that Prevent training for elected officers and staff of Student Unions should be provided through the National Union of Students".
Mensah told Varsity that "CUSU will likely seek to have one member of the Students' Unions' Advice Service complete the Prevent training in the course of the next academic year.
Allen was more ambivalent about the value of spending money on training.
"We've both considered it and sought advice from the university," the Graduate Union President said. "Just to be on the safe side, the appropriate members of the GU team will be taking the recommended free online training courses".
"I can't see any benefit in spending any more time or money on additional training," Allen added.
Speaking in a personal capacity, Allen said that "The Prevent strategy is yet another case of the Home Office following their trademark 'something must be done, this is something, this must be done' line of reasoning
"Prevent is little more than dog-whistling; if the government really wanted to prevent radicalisation it wouldn't be promulgating regulation which alienates BME and Muslim students by treating them as suspects".
Varsity is the independent newspaper for the University of Cambridge, established in its current form in 1947. In order to maintain our editorial independence, our print newspaper and news website receives no funding from the University of Cambridge or its constituent Colleges.
We are therefore almost entirely reliant on advertising for funding and we expect to have a tough few months and years ahead.
In spite of this situation, we are going to look at inventive ways to look at serving our readership with digital content and of course in print too!
Therefore we are asking our readers, if they wish, to make a donation from as little as £1, to help with our running costs. Many thanks, we hope you can help!