The students helping Cambridge's homeless
One year after footage of a Cambridge student burning a £20 note went viral, an influx of help for the homeless has swept the city, but it lacks direction.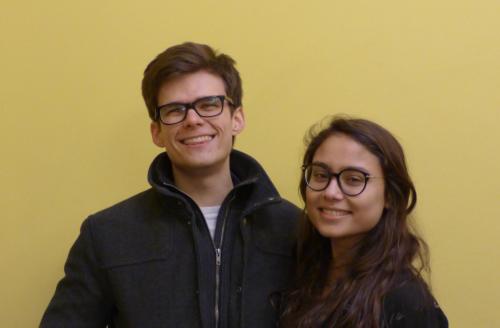 The year since the infamous money-burning video has seen an explosion in student engagement with the Cambridge homelessness crisis. However, attempts to combat the issue have been thwarted by a lack of communication between the council and numerous charities. As a result, it has proven difficult for these services to cooperate with each other, running the risk of overlap.
Cordelia Lam, a student directing a Wilberforce Society research project on the issue, told Varsity that it is "overwhelmingly obvious that there is actually a system in place but no-one quite knows how it works". She added that "overstretched" government support has led to a high level of outsourcing to charities in Cambridge, particularly Jimmy's and Wintercomfort. These charities, funded by the council and government grants, now provide the bulk of homelessness aid and immediate relief to rough sleepers. The council's website even redirects those in need of immediate shelter to Jimmy's, and largely funded the charity's 2014 expansion.
The sight of rough-sleepers outside buildings belonging to Britain's wealthiest university is familiar to most Cambridge students, with the homelessness problem "one of the most visible" in the UK according to Barry Griffiths, the Community, Events and Fundraising Officer for Jimmy's. A 2016 demographic survey of rough sleeping in the centre counted forty individuals. Jimmy's estimates that it supports between 500 and 700 people a year, the majority aged between 26 and 39.
Statutory responsibility for providing aid lies with the City Council. Though the council has a policy plan in place, publishing its Homelessness Prevention Grant scheme annually, both student volunteers and those in need of the services are often unaware of it. Lam's team found that charities "don't really have that understanding [of the council's plan]" – nor are they particularly keen to reveal gaps in their knowledge.
In its proposed budget for 2017-18, it set out over £700,000 in funds for non-governmental organisations providing homelessness services. The major recipients of this funding are Jimmy's, which received £53,294, and Wintercomfort, which received £91,628. The remaining funds were spread across smaller groups and initiatives.
Lam's paper has found that, because of this outsourcing, the Council's own work focuses largely on "prevention rather than relief" – for example, addressing the City's "underlying lack of [affordable] housing" via a new rent benefit scheme termed HB+. Yet when asked for how information about how they work "in relation to each other", the charities "have not been forthcoming" with information.
Nevertheless, students helping to tackle the issue are engaged and enthusiastic. Jimmy's Night Shelter – one of the frontline charities which provides overnight shelter, mental health care and long-term support – estimates that around 60% of its volunteers are from the city's student body.
Student initiatives such as Streetbite and the Cambridge Homeless Outreach Programme (CHOP) liaise with a network of larger charities to ensure that their work does not conflict with support already in place – a task made harder by sources of public information such as the council website – described by Lam as a "labyrinth."
Streetbite, set up in 1999 by a group of students who wished to have a practical impact, provides food and hot drinks to the homeless. Its volunteers walk a set route and are encouraged to chat with those who live on the streets. This academic year has seen record for student engagement: over 80 volunteers participate, handing out approximately 1600 sandwiches, 1600 hot drinks, and 2000 biscuits. CHOP – affiliated with CUSU – describes itself as "a bridge between students and homelessness services". With around thirty college representatives, its work is "a mixture of raising awareness, fundraising and recruiting volunteers" for the non-University charities.
New student initiatives have also begun to emerge in the wake of the Ronald Coyne incident. The Cambridge Invisibles are another newly-created student initiative. Varsity spoke to Nay Mourad Abi Samra, one of the founders of the group, which has just gained CUSU approval as a University society.
Their aim is to work with the homeless on "a project-based system." Students can "see the projects that are going on" and join if interested. They are encouraged to contribute on a more ad hoc basis: there is no obligation to "become a member and work on every single project". Nay feels that this is important to help alleviate a sense of "guilt" students can often feel when balancing their academic lives with charitable work.
The society is currently working in close liaison with Jimmy's to provide feminine hygiene products to those in need. Future ideas include a 'Streetstore' - which will involve giving away donations via a shop-front. Nay sees value in providing a "dignity of choice" for the homeless. "We're not here to help in a patronising way." She stressed that the Invisibles are "here to work alongside [others]", rather than "coming in with a plan to impose."
The Invisibles are currently discussing receiving funding from Peterhouse, and are also exploring the possibility of CUSU support. Nay says that the society was a direct reaction to what she termed the "patronising" attitude towards homelessness espoused by some colleges, as well as negative perceptions of Cambridge students as entitled or overly-privileged.
Again, the Invisibles have come across difficulties operating without a clear understanding of the Council's plans. Student groups must "always be in contact with Wintercomfort or Jimmy's, and have their approval in the way you're tackling things" because "they are aware of the wider plan." Nay worries that "by doing good, you might be doing more harm than good".
Other student projects have focused more on raising awareness. Take BAIT magazine: launched in 2017, its founder Amy Baxter wished, "like many other students," to reach out to the homeless community "in the wake of the money-burning incident". Proceeds from the magazine's sales are donated to charities such as Jimmy's.
It is this deficiency which has created the apparent lack of coordination between student organisations, rather than any particular group's failings. Though the Council makes publicly available its policies, grants and work with local organisations, there continues to exist a vacuum of communication. Coordination between such groups is only possible when everyone understands the "landscape" they are operating in. Lam's report for The Wilberforce Society aims to set out the need "for a more clearly laid out framework" for individuals, societies and charities alike.