Cantabs named in New Year's Honours list
Nick Clegg, Hugh Laurie and Demis Hassabis are among over a dozen Cambridge graduates honoured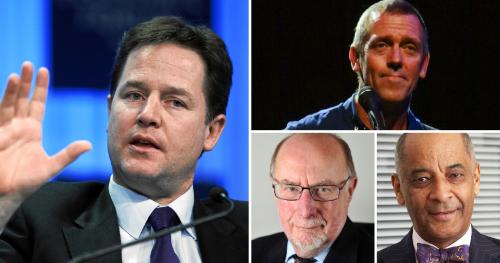 At least fourteen former Cambridge students – including former deputy prime minister Nick Clegg and actor Hugh Laurie – have been named in the New Year's Honours list, which was released today.
They include six Cantabs, from a range of backgrounds including clinical research, royal service, civil service, business, and politics, who have received knighthoods.
The annual honours list aims to reward "the achievements and service of extraordinary people across the United Kingdom". This year's list was drawn up under new guidance from prime minister Theresa May, who insisted that it should be seen to reward "genuine public service".
Professor Sir Keith Peters, who was first honoured as a Knight Bachelor in the 1993 New Year's Honours list, has been appointed a knighthood of the Order of the British Empire for his services to the advancement of medical science.
Peters, 79, is an honorary fellow of Christ's and Clare Hall, and was Regius Professor of Physic, as well as head of the School of Clinical Medicine, at the University from 1987 to 2005. In Cambridge, he promoted clinical research and championed a partnership between the University and Addenbrooke's Hospital, which houses the Cambridge Biomedical Campus today.
Explained The honours system
The honours system comprises six orders of knighthood, the appointees of which are announced twice a year, and published in the official Crown newspaper, the London Gazette — once before the start of the new year, and once before the Queen's official birthday.
UK nationals or citizens from the 15 Commonwealth realms such as Australia, Canada, and Jamaica, can be nominated for an honour, which is to be submitted to the Prime Minister, Secretary of State for Foreign and Commonwealth Affairs, or Secretary of State for Defence, followed by the Queen for final approval.
Knight Bachelors are the lowest-ranked form of knighthood recognised by a monarch and awarded to one who is not yet a member of one of the organised orders of chivalry, while all other knighthoods are already part of the orders. Below knighthood, the Orders of the British Empire include Commander (CBE), Officer (OBE), and Member (MBE).
Christopher Geidt, the Queen's private secretary, and Philip McDougall Rutnam, a top civil servant, will both be knighted in the Order of the Bath, the former as a Knight Grand Cross, and the latter as a Knight Commander. They are both alumni of Trinity Hall.
Three Cambridge alumni – Nick Clegg, Anthony Habgood and Kenneth Aphunezi Olisa – will be appointed knight bachelors.
Clegg, who read Archaeology and Anthropology at Robinson College, is one of the more controversial names on the list. Clegg, who earlier this year lost the Sheffield Hallam seat he had held since 2005, faced public outcry during coalition with the Conservative party when he agreed to an increase in tuition fees despite a Liberal Democrat manifesto pledge to oppose a rise, a decision he has called "one of the most difficult decisions of my political career".
Grateful to have been included in the New Year Honours list in recognition of service over five years as DPM. The knighthood, in truth, belongs as much to my team in government as it does to me. 1/2

- Nick Clegg (@nick_clegg) December 30, 2017
Habgood, who graduated from Gonville & Caius College, was recognised for his services to UK industry. Habgood is a former chief executive of Bunzl, a distribution and outsourcing firm, and former chairman of Whitbread, and remains chairman of the RELX Group and the Court of the Bank of England.
Olisa, an alumnus of Fitzwilliam College, was knighted for his services to business and philanthropy. Olisa, who, with his wife, endowed the Olisa Library at Fitzwilliam College, is best known for his experiences with technology businesses, including IBM, Wang Laboratories, and for founding Interregnum, a technology merchant bank. More recently, he was appointed the Lord-Lieutenant of Greater London. He was named the Not for Profit Non-Executive Director of the year in 2009 by The Sunday Times for his work with several charities, particularly in combating homelessness.
Eight other Cantabs have been appointed to the Order of the British Empire, putting the total number of Cambridge alumni honoured in the New Year's list at fourteen. Actor and Footlights alumni Hugh Laurie has been advanced to a Commander of the Order (CBE), following his appointment as an Officer of the Order of the British Empire (OBE) in 2007.
Other Cantabrigian appointees to Commander include co-founder and director of the Hay Festival, Peter Kenrick Florence; co-founder and chief executive officer of DeepMind, Dr. Demis Hassabis; professor of economic history at Oxford, Professor Katherine Jane Humphries; and consultant histopathologist at North West Anglia NHS Foundation Trust, Dr. Suzannah Claire Lishman