Maria Epishkina announced as Union president for Easter 2018
Votes were cast today for four positions on the Union's Standing Committee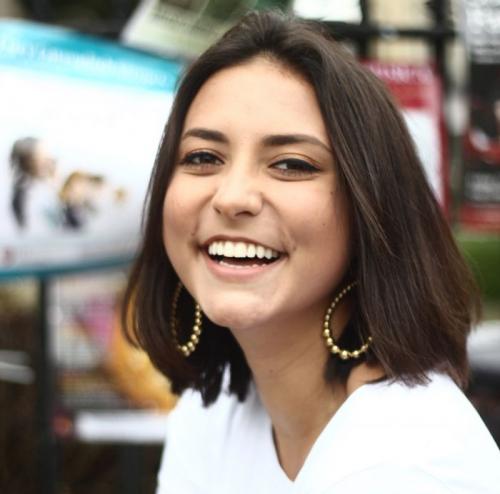 Maria Epishkina has been announced as president of the Cambridge Union for Easter term 2018, claiming victory over her opponent Andrea Borbely.
Epishkina won with 279 votes, 126 more than Borbely, who claimed 153. A total of 337 votes were cast for president, and the overall turnout for the election was 506.
Epishkina, a second-year student at St. Catharine's College, said during an interview with Varsity that she was "happy to admit that Andrea is more experienced than me. But my motivation for running is that I saw that there is change that needs to be made and I know that I have experience and the drive to make that change."
Having been responsible for the introduction of the Union+ programme this term, Epishkina's manifesto included a promise to increase the Union's access and outreach work. She is currently serving as the Union's Women's Officer.
A third-year student at Murray Edwards, Borbely had run on a manifesto that committed her to defending free speech at the Union, which she said would entail "genuinely widening debate, making sure that voices you cannot really hear somewhere else are platformed."
Visibly emotional following the announcement of the results, Epishkina told Varsity she was "speechless".
In a later statement made to Varsity, she said she was "so excited" to take up the role of president. She continued, "I'd like to say a massive thank you to everyone who supported me and believed in me throughout the election - I can't express how much each of your contributions has meant!
"Well done to Andrea for running a strong campaign and I wish her all the best."
The other positions up for election today were Executive Officer, Speakers Officer, and Treasurer, which were won by William Smart, Jali Packer, and Jade Charles respectively.
Speaking to Varsity following the announcement, Packer said: "I'm really looking forward to working with the elected team, and bringing you another amazing Easter term".
Treasurer-elect Jade Charles also expressed her eagerness to assume her new role: "I am delighted to be appointed Union Treasurer for the Easter term, and it all paid-off, pun intended! I look forward to meeting as many of you as possible in the Treasurer's committee next term and hearing your suggestions."