Newnham co-founder to get statue in Parliament Square
Suffragist Millicent Fawcett to be the first female portrayed by a statue in Parliament Square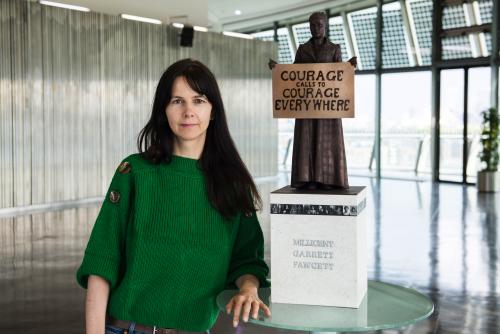 Suffragist and co-founder of Newnham College Millicent Fawcett will be honoured by a statue in Parliament Square, to commemorate her advocacy of educational opportunities for women. 
Not only will Fawcett be the first woman honoured with a statue in Parliament Square, but artist Gillian Wearing, who won the prestigious Turner Prize in 1997, will the first female artist to have her work exhibited there. The eleven statues currently installed in the square portray and were designed by men.
Wearing's design depicts Fawcett holding a sign that reads "Courage calls to courage everywhere," her famous 1913 proclamation made following the death of suffragette Emily Davison, who was killed when she walked onto the racetrack during the Epsom Derby.
The commission was inspired by Brazilian-born activist and feminist Caroline Criado-Perez, who last year launched a campaign to honour a suffragist in Parliament Square, resulting in a petition which gained over 85,000 signatures.
The statue, which Mayor of London Sadiq Khan called "long overdue," is set to be inaugurated in February 2018 to mark one hundred years since women were granted the right to vote by the 1918 Representation of the People Act. Women still faced greater restrictions than men until 1928, a year before Fawcett died at the age of 82 in 1929.
Fawcett, who founded the National Union of Women's Suffrage Societies (NUWSS) in 1897, was instrumental in securing women the right to vote. She was also notable for her commitment to peaceful campaigning, which set her apart from a more militant group of suffragists known as the suffragettes