LGBT+ community choir adverts covered with homophobic message
The choir, who were recruiting new members for the next term, said they were "really shocked" by the response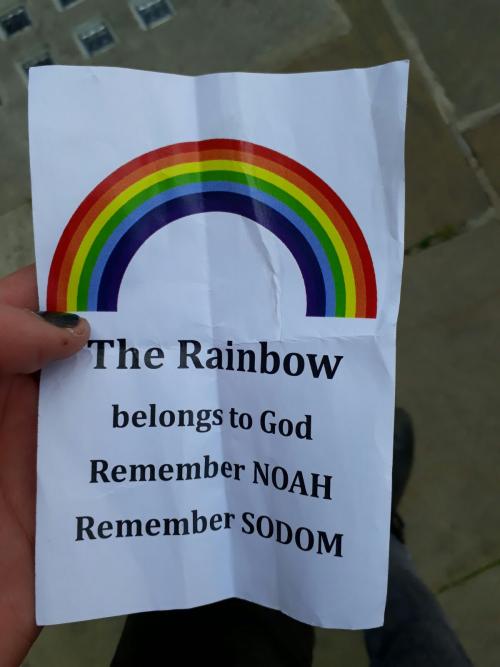 Posters displayed around the city to recruit new members for a Cambridge LGBT+ community choir have been covered in homophobic messages.
The note, bearing a picture of a rainbow, was found attached to the bottom of around half of the Sing Out Cambridge choir's posters, and was captioned: "The rainbow belongs to God. Remember NOAH. Remember SODOM."
Eve Berwin, who runs the choir and was responsible for putting up the 30 posters around Cambridge, told Cambridge News she was "really shocked" when she was informed of the notes by another choir member.
She went on to describe Cambridge as a "liberal and open-minded place" before expressing concerns at the targeter's use of religious references. "We have people of all different religions in the choir, and we have LGBT Christians as members - we want to be as welcoming and positive as we can be," she added.  
However, Berwin told the News that she was yet to contact the police regarding the messages left on the posters, as she wasn't sure if it was severe enough to warrant being labelled as a hate crime.
The choir posted on their Facebook page notifying members about the homophobic messages added to some posters, and commenters were quick to offer support. One branding the act "utterly horrible" and another offering words of encouragement: "sing loud and sing proud, be the sun that shines through the haters' rain and create a true rainbow of hope and resistance."
Speaking to Varsity, Berwin said that she was "sad and surprised to see this response to the posters." However, she stated that the choir has received much support "from other members of the LGBT+ community, members of the wider community, and also from some churches in Cambridge, which has been great."