Celebrating 40 years of women's education at Trinity
The Women Making Waves in Education panel discussion brought together a panel of experts to discuss the progress made in women's education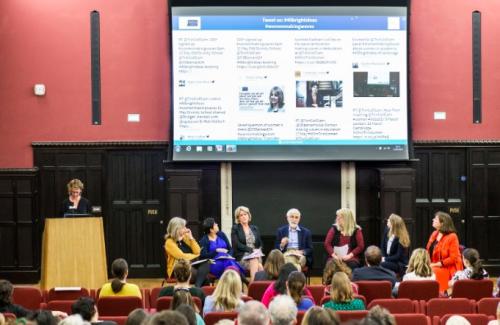 An audience of more than 100 people attended the Women Making Waves in Education panel discussion hosted by Trinity College on Friday night.
A diverse panel of both educators and students considered the progress made in women's education in recent years, as well as the challenges still remaining. The hashtag #40brightideas was the theme for the evening, as the panel discussed ways to help women realise their potential at all levels.
The event, held at the Old Divinity School, formed part of a three-year programme to mark 40 years of women at Trinity. The college statutes were changed to allow women to be admitted and elected in 1975, the first female Fellow was elected in 1977, and the first female undergraduates were admitted in 1978.
The panel discussed research showing that although girls now outperform boys in UK secondary schools, and there are more female university students than male, men are still ahead when it comes to occupying top positions, both within universities and in most graduate job markets.
On the panel were Professor Catherine Barnard, EU and employment law professor and Trinity Senior Tutor; Kate Evans,  head of the Anglia Learning Multi-Academy Trust; Professor Valerie Gibson, head of the High Energy Physics Research Group and Trinity fellow; Helena Eccles, Murray Edwards undergraduate and founder of the Think Future study; Dr Rob Wallach, director of Postdoctoral Affairs and King's fellow; and Professor Sucheta Nadkarni, professor at the Judge Business School and fellow at Newnham.
Chairing the panel was Bridget Kendall, the first female Master of Peterhouse College, and the BBC's first female diplomatic correspondent. Kendall made reference to her own experiences as both a student and a journalist, citing a former colleague who had told her that "women should be banned from the airwaves because their voices are too high to carry any authority".
The first of the panellists to speak was Professor Barnard, who confronted the audience with some controversial opening remarks on women's dress, advising attendees to "consider what you wear and the impression it might make". Professor Barnard then went on to offer tips for women striving for a career in academia, including developing alliances with like-minded colleagues, building up a support network, and having a life outside of work.
Kate Evans continued the conversation with her experiences as head of a Cambridgeshire secondary school, looking beyond the 'Cambridge bubble'. Her suggestions for improving women's performance in education included a curriculum that promotes equality and diversity, additional opportunities for enrichment, and positive female role models. She concluded that we need to think more broadly about the problems in female education than just focusing on schools.
Professor Valerie Gibson offered her thoughts on women in science. She pointed to problems in schools as the main reason why so few women study Physics at university. If only 20 per cent of students taking it at A-level are female, she explained, this figure will not increase at higher levels of education. There needs to be a cultural change, she argued: science must be celebrated in schools, and all possible careers in science - not just medicine - promoted. She also spoke critically of the Cambridge admissions process, suggesting that it did not necessarily lead to the best scientists getting accepted: "It's a conversation we could definitely have".
Helena Eccles brought up the issue of intersectionality, arguing that "we talk about women as one collective," when in reality every woman will experience different types of prejudice. Drawing from her own research, Eccles also drew attention to the fact that though there may no longer be obvious barriers to success, cultural assumptions around gender still exist. When she asked students if they are confident that their gender would have no bearing on their future career progression, 72 per cent of men agreed, compared to just 32 per cent of women. Whilst she was optimistic about the new opportunities for women in sport, she also alerted the audience to problems, including within the University's own cricket team: although the Cambridge University Men's Cricket Team play at Lord's, the women's team play only on its 'nursery' ground.
Dr Rob Wallach, the only man on the panel, agreed with the other panellists that issues must be addressed as early as possible. On academia, he said that women must be encouraged to take risks in applying for positions, and that "women need more women mentors". He also advocated for a greater take up of paternity leave and shared paternity leave, and regarding children as a positive asset.
Last to speak was Professor Sucheta Nadkarni, who discussed women in leadership positions. Corporations with female leaders, she said, tend to have better corporate social responsibility, better innovation and fewer corporate scandals. She advised women to be true to themselves, and stop trying to conform to the stereotype of a 'good leader'. Being authentic, she said, leads to trust and connections in business. Finally, Professor Nadkarni added that: "it's also less stressful!".
Chair Bridget Kendall emphasised that, although attendees of the event "all learned a lot", "this is a work in progress; there is more to do"