Women's Day protesters fight for global rights
The theme of the day was #BeBoldForChange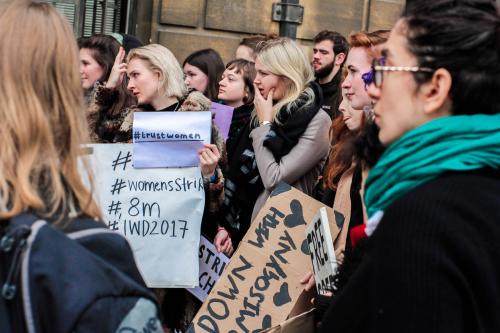 On 8th March, Cambridge joined people all over the world to celebrate International Women's Day, a worldwide event commemorating the struggle for women's rights.
The day, according to the United Nations, aims to recognise women for their achievement disregarding divisions, whether "national, ethnic, linguistic, cultural, economic or political".
It is an opportunity to look back on "past struggles and accomplishments" and to look ahead to the "untapped potential and opportunities that await future generations of women".
This year's theme, #BeBoldForChange, was to encourage people to take brave steps towards driving forward the agenda for gender equality.
The city was host to several events running throughout the day, ranging from tea parties and bops to debates and film screenings.
Among a number events on the day, the African Society of Cambridge University (ASCU) held a talk entitled 'Galvanising African Women's Political Participation' inviting Rainatou Sow, Dr Awino Okech and Patricia Lamour, three black women excelling in their respective fields to share their knowledge on the obstacles facing young African women from engaging in representative politics.
In line with this year's theme, #BeBoldForChange, the discussion delved into the experiences of women in several African countries, celebrating the progress already achieved, to see how we can build on this progress and engage with the differences in the challenges women face around the world.
Examining the ways in which women were being left behind in an 'Africa Rising' narrative, the panel discussed the critical mass of women needed to transform women's participation in the communities.
When asked about the negative connotations attached to the 'feminist' label, Dr. Awino Okech, a Kenyan women's rights activist, teaching Gender Studies at SOAS University, said "Feminism is simply about people recognising the importance of women's freedom and justice.
"It's not a desire by women to dominate systems of power, but about rethinking power relationships. It's also important to remember that feminism, as a practice of freedom and equality for all, is not alien to Africanness."
Moving closer to issues nearby, the panel discussed the challenges to intersectional feminism today. Lamour, co-founder of the GEEDA (Gender Education and Enterprise Development for Africa) Network, told Varsity, "We have to take up the issues that impact women everyday, whether it's unpaid carework, lack of access to healthcare or domestic violence.
"Whatever the issue is, we must tackle them head on. White feminists should not be afraid to confront their racism, and as women of colour we need to define our levels of interaction with feminism and politics."
Elsewhere in Cambridge, people joined Irish women and others around the world to protest to assert a woman's right to control over their own bodies.
The direct action group Strike4Repeal previously called on the Irish Government to declare a referendum on repealing the 8th amendment, which outlaws abortion in Ireland, by the 8th of March, threatening strike action if their demands were not met.
In Cambridge, a large group assembled outside the Guildhall on Market Square, dressed in black, wielding coat hangers and placards. The protest was a show of solidarity with those women whose governments deny them the right to bodily autonomy.
Following speeches and chants from students and members of the public, a pile of coat hangers was adorned with flowers and placards in tribute to women who are forced to risk their lives in the absence of legal abortion in their own country.
International Women's Day has brought together women across the world in events to demonstrate solidarity. Women in the US were called to stage a general strike by the people behind the Women's March on 21st January on International Women's Day under the hashtag #DayWithoutAWoman, with thousands pledging to miss work or refusing to spend money.
The day stood to serve as an opportunity for solidarity with women all over the world, celebrating the unique hurdles of oppression that they have overcome as well as empowering them to drive forward to win larger battles and open up new worlds of possibility