Cambridge renews affiliation to National Union of Students
Council has approved a motion to remain affiliated to NUS, despite a forty-fold spike in fees
● Read Varsity's blow-by-blow live coverage of Council here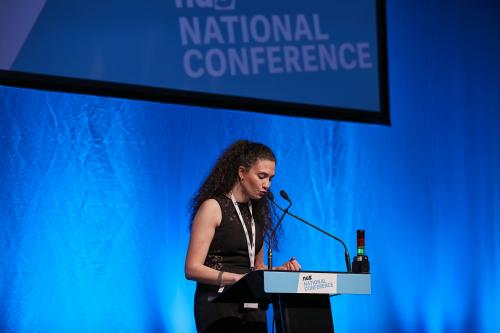 CUSU has voted to remain affiliated with the National Union of Students, following a vote at CUSU Council.
Re-affiliation was strongly approved during Council, the statutory annual vote on NUS affiliation having previously been postponed amid concerns regarding fee increase. Last week, CUSU President Amatey Doku defended affiliation to Varsity, saying that the student union would lose thousands of pounds without the sale of NUS Extra Cards.
Voting was significantly favourable to the motion, with only two votes against and one in abstention.
It is a markedly less dramatic result than last year, where Council gave its approval to a referendum on affiliation with the national student body, following allegations of anti-Semitism against its president, Malia Bouattia.
Last month, Bouattia was unexpectedly beaten in her re-election bid by Shakira Martin, who will take up the position in July. Martin will be joined by Doku, who won an election to become the student's Vice-President for Higher Education.
Doku defended affiliation, saying "we elected a team that did not inspire a great deal of confidence", and that he hoped to "restore some of that confidence into our national union".
The head of the CUSU BME campaign, Nadine Batchelor-Hunt, raised whether CUSU should consider a regular, formal review process of its relationship with NUS in light of recent controversies. Asked whether Martin had the endorsement of Jewish students, an attendee from JSoc, Gabriel Gendler, said that members had been "singing [Shakira Martin's] name" at dinner on Friday.
Campaigners have raised concerns around the cost of NUS affiliation before, which flared in Lent when increased fees were revealed to students. In 2015–16, CUSU paid just £250 for its membership of the NUS. Despite budgeting the same amount for this academic year, CUSU has actually paid more than twenty times that figure, forking out a total of £5,765. For 2017-2018, this looks set to almost double again to £10,527.
CUSU has known that an increase was on the cards since the end of last summer, but has as yet been unable to negotiate a decrease. Doku has expressed a hope that he will be in a better position to negotiate on fees now that NUS conference has passed.
Doku said he was "fairly confident" that the number will not be as high next year. He pinned the rapid increase on NUS not initially acknowledging the money which CUSU receives from JCRs and MCRs in its fee calculations.
He faced several questions about the fluctuating figures CUSU has paid for membership in the past few years. Doku said there are "problems about how conclusions are reached" with funding.
CUSU General Manager Mark McCormack said that the increase in fees had not been anticipated at the time of last year's referendum.
A motion was also approved to call an extraordinary meeting of NUS to discuss elements of its 'Democratic Review'. The Review, which the absent Education Officer, Roberta Huldisch, described in the motion as "arguably the most significant overhaul of NUS democracy in its history" was voted on at the NUS National Conference last month, but is not valid until it is ratified at a second conference. It proposes various and wide-ranging structural changes, in the hope of making the NUS' democratic process more accessible and accountable. Emmanuel JCR president Connor MacDonald asked if such a meeting was being proposed as the result of dissatisfaction coming from the "hard-" and "moderate-left" wings of NUS. 
Access and Funding Officer Eireann Attridge, who presented the motion in the stead of Huldisch, fielded questions from MacDonald and Sam Longton, a Petrean. MacDonald said he thought there were "significant logistical challenges" facing the motion, and that there are "forces within the NUS that [he] would rather not be empowering". 25 NUS-affiliated student unions across the country must call for a conference to trigger one occurring.
The motion passed with around eight abstentions and several votes against.
Motions to form a support group for survivors of male sexual assault and to alter the constitution of CUSU Women's Campaign passed without opposition. A motion to give free budget funds to the Cambridge Humanities Review failed after a speech in opposition by Disabled Students' Officer Jessica Wing. Wing said that CUSU needs all the money in can get at this point in time, and CHR was encouraged to instead reach out to the Societies Syndicate