Election frontrunners launch student campaigns
Incumbent MP Daniel Zeichner and Lib Dem Julian Huppert have addressed activists ahead of June's election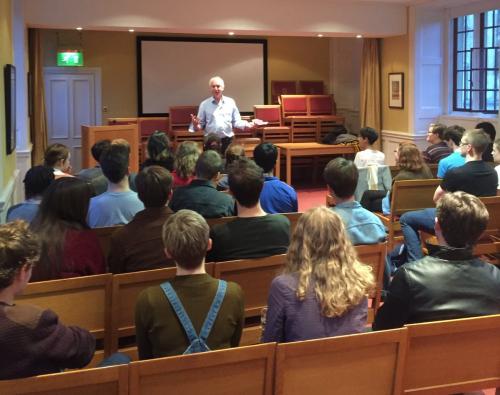 With just over a month to go before voters nationwide head to the polls, the Cambridge University Labour Club (CULC) and Cambridge Student Liberal Democrats (CSLD) formally launched their general election campaigns this weekend.
Speaking to students and CULC activists at Clare College on Friday, incumbent Daniel Zeichner promised "proper, constructive engagement" with the outcome of last year's referendum on EU membership, and pledged a "vision that inspires and enthuses people".
Citing his recent vote against the triggering of Article 50, Zeichner called himself a "lifelong advocate for the European Union" and promised that a Labour government would guarantee EU citizens' right to stay in the UK the day it took office, but also emphasised the broader need to balance the voices of those who voted to remain with those who voted to leave.
"It's very clear where Labour is trying to get to. Yes, respect the result. But get the closest, most constructive relationship [with the EU] that is possible", he declared, criticising Conservative leader Theresa May and her Liberal Democrat counterpart Tim Farron for being too "simplistic" when it came to their views on Brexit.
Praising Labour's leadership on "the issues that really matter", Zeichner rejected the "brutalism, stupidity [and] racism" of the US president Donald Trump, and slammed Farron for his public support for American airstrikes in Syria. The Lib Dem leader was also criticised by Zeichner for "struggling to articulate his view" on whether he thinks gay sex is a sin in the face of an attack on LGBT rights across the world. 
Zeichner also vowed to continue focusing on the "things that really matter to people in Cambridge", with improvements to bus services in the city and plans to "reinvent council housing" to solve the ongoing housing and homelessness crises. Labelling May a "robotic, simplistic, aggressive, graceless" leader, he told those in attendance that Labour was pushing for a "fairer country", and that the beliefs of the party's divisive leader Jeremy Corbyn were "much closer to the values of the vast majority of the British people" than those of the Conservatives.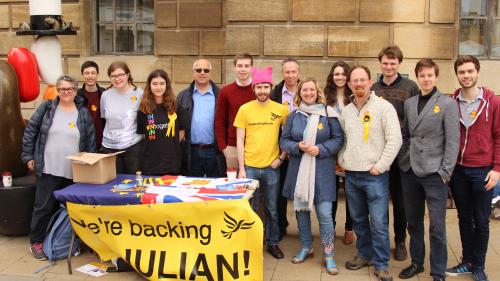 Liberal Democrat Julian Huppert addressed activists in the Cambridge Union bar on Saturday, where he warned of the "real risk" of a "Tory-UKIP hard Brexit" permanently shutting the door on opportunities for young people, and lambasted the "utterly pathetic" state of the opposition under Labour.
"We have seen not only the Tories chasing UKIP, but Labour following the Tories following UKIP", he said, criticising Labour under Corbyn for ruling out the option of holding a second referendum on the terms of the final Brexit deal.
On Zeichner's vocal opposition to Brexit, meanwhile, Huppert told Varsity that while he did not doubt the Labour candidate's dedication to Britain's continued membership in the EU, "his party has failed him, and he chose to stay loyal to it and to stay as a shadow minister". A vote for Labour, he claimed, would only further empower and embolden Theresa May's push for a hard Brexit. 
Vowing to safeguard the "progressive, liberal, tolerant, open-minded [and] internationalist" values of Cambridge, Huppert cited his record as a former Lib Dem spokesperson on Home Affairs, Justice, and Equalities. He noted that prior to his being unseated as MP for Cambridge by Zeichner in 2015, he had played key roles in defending internet privacy by helping to defeat the so-called 'Snooper's Charter' in 2012, and also in passing a bill that obliges the government to spend 0.7 percent of the UK's gross national income on international aid.
Huppert also hit back at Labour activists who have criticised his party over their backing of tuition fee increases in 2010 as part of the coalition government, contrary to their manifesto commitment. He recalled leading protests in Cambridge as a student at Trinity College against the introduction of tuition fees, and highlighted a statement released by the NUS that praised him for "keeping his word" and voting against the increase in top-up fees in 2010.
Both candidates stressed the need for their parties to perform well in upcoming elections for the County Council and Mayoralty of Cambridgeshire and Peterborough to build momentum for the general elections in June. With Labour polling poorly nationwide, polls predict that Huppert is set to retake the seat