City braces for slew of elections, as Lib Dems seek to re-take seat
Voters will take to the ballot box twice in just five weeks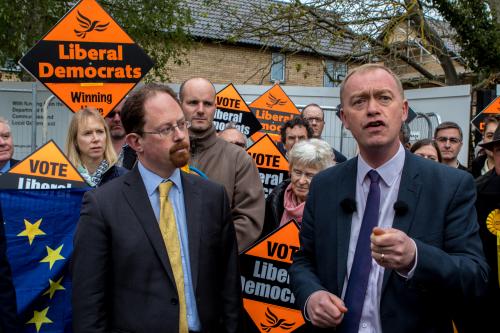 Cambridge is to face a series of elections over the coming months, with PM Theresa May's snap election in June overshadowing elections for the County Council and inaugural Mayorality of Cambridgeshire and Peterborough set for the 4th of May.
For the majority of students, who spend only a few years in the city, the focus will be upon June 8th, when Cambridge will select its Member of Parliament. The current MP, Labour Daniel Zeichner, is facing a tough contest from his predecessor, Liberal Democrat Julian Huppert. With Labour polling poorly nationwide, Huppert looks set to take back the seat, but history has shown Cambridge can throw up surprises during a General Election.
The two other votes, one to select County Councillors and the other to pick a regional Mayor, may be of less direct interest to Cantabs. The Conservatives are anticipated to gain the Mayoralty, and to take control of the County Council, where they have been narrowly short of a majority since 2013.

General Election
The majority of British students at the University will be eligible to vote in Cambridge. After parliament dissolves on the 3rd of May, Daniel Zeichner will have to change his Twitter handle, drop any 'MP' branding and re-embrace candidacy. Zeichner has already been out campaigning for his re-election over the last few weeks, hosting a visit from Labour's Shadow Foreign Secretary, Emily Thornberry last Saturday.
His main rival will be Liberal Democrat Julian Huppert, who was Cambridge's MP from 2010–15. Huppert is the bookies' favourite to re-take the seat, with odds of 1/5 that he will win. Only recently, Huppert had become a founding director of the Intellectual Forum, a research centre focused on wide-ranging political issues based at Jesus College. As a result of the snap election, he has temporarily stepped down. On Thursday, Lib Dem leader Tim Farron arrived to offer Huppert his support.
Though the election is expected to be fought mainly between Labour and the Lib Dems, the Conservatives, who placed second in the seat in 2010, could make a strong showing. Voting predictions based on analysis by the website Electoral Calculus put the Conservatives within five percentage points of Labour. The Conservatives have yet to announce a candidate.
Cambridge is a unique seat. The tightest Labour/Lib Dem marginal in 2015's election, it is also one of the strongest Remain areas outside of London. With just 599 votes separating the parties last time, the student vote could be crucial, as could votes for smaller parties like the Greens, whose candidate Stuart Tuckwood is an NHS nurse. All the main candidates will be looking to appeal to the constituency's dominant Remain-voting population, so Brexit is likely to feature strongly in any upcoming hustings.
Many students are likely to vote in their home constituency, especially those who are from other marginal seats, or who plan to vote Conservative. A Varsity poll in the build up to 2015's election found that around one in six students planned to vote at home.
Students at Homerton have a slightly different proposition facing them. Homerton is the Cambridge's southernmost ward, Queen Edith's, which is currently part of the South Cambridgeshire constituency. Its current MP is Conservative Heidi Allen, who holds a majority of around 10,000 votes. New boundary changes, which will come into effect in 2018, will make Queen Edith's part of the main city constituency, but until then Homertonian students may find their votes do not carry the same weight as those at central colleges.
Mayoral
Within the University, all attention has focused on Clare College Porter Kevin Price, who is aiming to become the first Mayor for the Cambridgeshire and Peterborough Combined Authority.
Despite the excitement that Price, the Labour candidate, has generated among students, victory seems a remote possibility. Labour have been traditionally unpopular in rural Cambridgeshire, even in periods when the party's position was much more favourable nationally than it is now. Without strong performances in the two cities, Cambridge and Peterborough, Price could well end up third.
Conservative candidate James Palmer will start as the runaway favourite. Every district electing the inaugural mayor except Cambridge City Council have strong Tory pluralities, and of those, all except Cambridge County Council are majorities. The support enjoyed by the Conservatives in Fenland and East Cambridgeshire, where they respectively hold 34 and 36 seats out of 39, suggests that a large majority in these areas is likely.
The potential surprise package is Liberal Democrat candidate Rod Cantrill. The Cambridgeshire and Peterborough authority as a whole voted to remain by 52 per cent to 48 per cent, an interesting reversal of the national trend; however, there was a real spread of results–74 per cent of voters in Cambridge chose to Remain, while 61 per cent in Peterborough opted to Leave. Remain-inclined Conservatives may well defect to Cantrill, who has run his campaign closely alongside Julian Huppert, widely expected to take the Cambridge Parliamentary seat.
County Council
The Conservatives need three more seats to return a majority on the County Council, and will be looking to claw back ground lost to UKIP now that Article 50 has been triggered. UKIP majorities of just 86 votes in Littleport, 11 in Roman Bank and Peckover, and only five in Chatteris should make them easy pickings for the Tories as they seek to take control.
All of Labour's seats on the County Council come from city wards, and the prospect of gains elsewhere is bleak. National polls suggest that that Labour would do well to hold on to all their existing seats, but many Cambridge wards have been staunchly Labour for years, so it would not be a surprise to see Labour maintain the seven seats they won last time. They may even stand a chance in the wards of student-heavy Castle and always ultra-marginal Market.
The Lib Dems will seriously fancy their chances. Conservative stronghold South Cambridgeshire produced a strong Remain result (60-40), while East Cambridgeshire was only just in favour of leaving (51-49), and is also dominated by Tories. Disaffected voters may well be tempted to switch allegiance to the Lib Dems to protest, or even prevent, Brexit. In Cambridge itself, the Lib Dems are most likely to profit if Labour's worst fears are realised. Wards such as West Chesterton, Arbury, and King's Hedges have been solidly Labour in the past, but could fall if Corbyn proves as unpopular as the polls suggest he is.
UKIP will feel vulnerable – resignations and by-elections since 2013 have cost them two seats and more are threatened as the party struggles to reinvent itself after the Brexit referendum. Strong majorities in Fenland and Huntingdonshire may prove difficult to overturn, but voters deserting UKIP for the Tories make further gains unlikely.
In some city wards, students will hold the balance of power, but some are actually fighting for election themselves. Conservatives Connor MacDonald, Henry Mitson, and James Mathieson standing in the Chesterton, Market, and Cherry Hinton wards respectively, and Labour candidate Joe Dale is hoping to be elected in Newnham