Shakira Martin wins NUS presidency
She defeated favourite Malia Bouattia and Durham University delegate Tom Harwood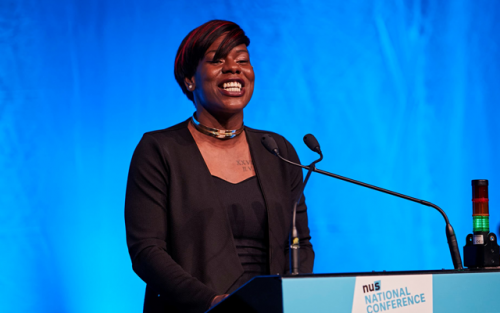 Shakira Martin has been elected President of NUS at the organisation's national conference, beating incumbent Malia Bouattia by 402 votes to 272.
Martin, who is currently the Vice-President for Further Education, stood on a platform that emphasised breaking down "class barriers" to education and and tackling injustices which face students, such as homelessness and sexual harassment.
In her pitch to the conference, Martin stressed her working-class origins and called upon NUS to focus more on the needs of ordinary students rather than internal conflicts, saying that it currently acts as a "talking shop". She stated that it needs to support disadvantaged and working students.
I will never be able to tell you how much this means. Thank you, THANK YOU. Congratulations to other candidates ❤️ #NUSConference

- Shakira Martin (@ShakiraSweet1) April 26, 2017
Martin expressed her delight on Twitter
After her victory, she said: "I am honoured and humbled to have been elected as NUS' National President. I take this as a vote of trust that our members believe I can lead our national movement to be the fighting and campaigning organisation we need it to be, representing the breadth of our diverse membership.
"Further Education made me who I am today and look forward to sharing stories of just how powerful all forms of education can be when we're all given access to it. During my term in office, I want to spend my time listening, learning and leading."
The last year has seen NUS embroiled in a number of controversies, particularly over its relationship with Jewish students. A wave of university student unions called referendums on whether or not to disaffiliate from the organisation in May and June of last year after it emerged that Bouattia had previously made comments about Zionism which were interpreted as anti-Semitic. Bouattia was subsequently criticised by a Home Office Select Committee for her remarks.
The result will likely be seen as a rebuff to Bouattia's style of leadership rather than its substance. Martin is politically very close to Bouattia, whom she endorsed for the presidency last year, but does not have the same record of controversial comments, and so might be able to steer NUS away from its recent contentions.
However, there are indications that NUS's tendency to attract controversy extends beyond its leadership. Earlier this week, NUS faced yet another anti-Semitism controversy after it emerged that a number of candidates for vice-presidential positions had previously posted anti-Semitic material on social media.
This year's conference was an acrimonious affair. Harwood used his final speech to conference before the vote to make an uncompromising attack on the status quo, criticising NUS for not taking action against Bouattia after an investigation of her remarks about Zionism and castigating the "hard left" in NUS for occupying an "echo chamber". Just minutes before the result was announced, outgoing Vice-President for Union Development Richard Brooks tweeted that if NUS did not vote for Shakira Martin and a slate of other candidates, there "may not be an NUS next yr".
Today is about the future of NUS, SUs and Students. Either we elect these guys - all of them or may not be an NUS next yr. #NUSconference pic.twitter.com/jL65R2TwtL

- Richard Brooks (@Just_RichardB) April 26, 2017
Shortly before the result was announced, Richard Brooks made an indirect attack on his president
The vote took place amongst almost 1,000 delegates elected by students at universities affiliated to NUS. Many of these were elected before the candidates for the presidency were announced, making it difficult to ascertain how far the result is reflective of the will of the broader student body.
Bouattia is only the second president in recent history to have lost a re-election bid, the other being Megan Dunn, whom Bouattia herself defeated for the leadership of the organisation last year