Cambridge Reclaims the Night
Women and non-binary people turned out to march against street harassment and sexual violence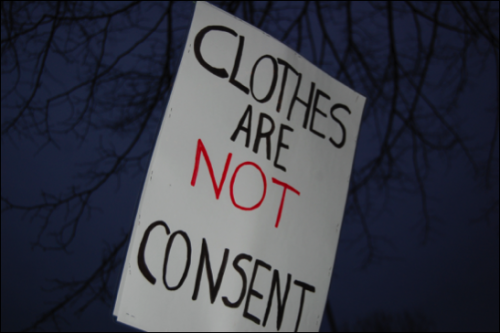 On Sunday evening, Cambridge hosted its annual Reclaim the Night event, welcoming self-identifying women and non-binary people to march, protest and hold vigil against street harassment and sexual violence.
Held in coincidence with International Women's Day, Reclaim the Night aims to secure equal ownership of public spaces and works to end oppression. 
Led by CUSU Women's Officer, Audrey Sebatindira, students and members of the public marched from Parker's Piece to the Grad Union, through the city centre.
Sebatindira opened the march with a short speech, reinforcing the group's inclusion of "all women, not just cis-women", and acknowledging the differential treatment and difficulties encountered by racialized women alongside this. Before beginning the march, she announced, "we're not going to be palatable," encouraging participants not to forgo their space or be unduly moved.
Sebatindira told Varsity, "I think a lot of marginalized people can empathise with the feeling of walking home a little bit faster at night, with feeling more worried about their safety in a way that perhaps their male counterparts wouldn't be.
"To march and claim this space gains attention – it attracts people as we move through the streets and generally generates a positive reaction to the cause"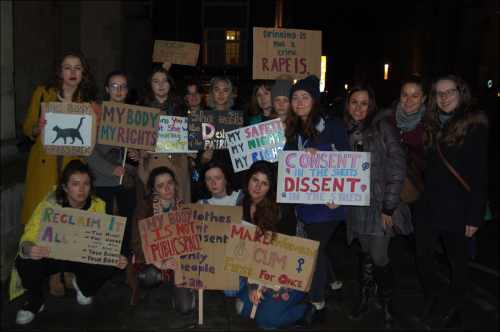 Incoming Women's Officer, Lola Olufemi, also echoed these sentiments, and praised the event as "supportive" and "affirming".
"We must aim for a world where all women and non-binary people can walk the streets safely," Olufemi continued. "When we get tired or feel like the work we're doing isn't enough, we must know that we are laying the groundwork for generations to come."
Olufemi finished with a powerful affirmation: "Embrace your anger because it is meaningful and it is constructive. Don't let anyone ever tell you it's not." 
The Facebook event for Reclaim the Night showed nearly 500 people were interested in attending. Despite the dull weather, the march attracted lots of eager protesters, many of whom could be seen carrying signs with catchy slogans, adorned with copious amounts of glitter.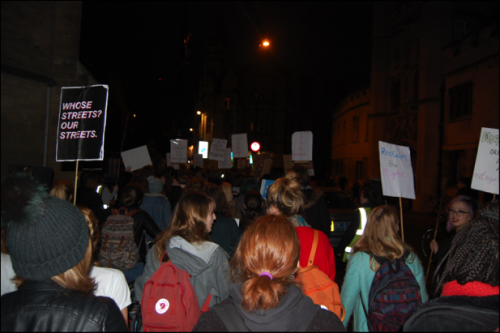 For about 45 minutes, spaces ranging from Christ's Piece to Kings' Parade were filled with loud cheers, whistles and chants including: "What do we want? Safe streets! When do we want them? Now!", "Hey! Ho! Sexual violence has got to go!", and "Say it once, say it again, no excuse for violent men." Stewards from CUSU's Women's Campaign accompanied the marchers, leading the chants and ensuring the safety of the group.
The Cambridge rally was also attended by incoming CUSU President, Daisy Eyre. "I love Reclaim the Night. It makes me feel so empowered to be surrounded by women." Eyre told Varsity. "Chanting the words, 'women united will never be defeated', just makes me feel very strong! I've attended this event every year since I started at Cambridge and can't wait for many more. It's really powerful."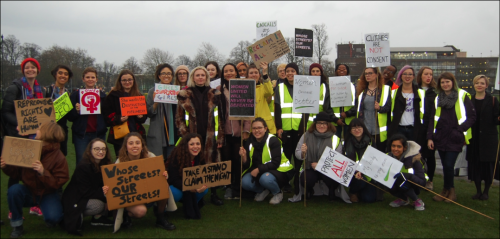 When asked about their reasons for joining the march, one student told Varsity about their concerns for women and non-binary people's safety. "The right to feel safe is something that many women aren't often afforded," they explained. "It's really important to draw attention to, and foreground, this issue, because feeling safe is a fundamental right."
Lizzie Bowes, an English student at Newnham, wished to celebrate feminist solidarity: "I'm here because I love, and am grateful for, all the inspiring women in my life. I march now for them."