Umang Khandelwal ekes out narrow win in University Councillor election
Incumbent Khandelwal faced a strong challenge from Josh Jackson, who has repeatedly criticised her record in the position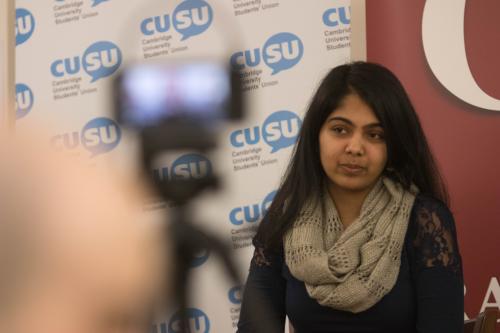 Umang Khandelwal has been re-elected University Councillor after one of the most acrimonious contests in recent times, beating challengers Josh Jackson and Marcel Llavero Pasquina.
The campaign has been defined by bitter tensions between Khandelwal and Jackson, which culminated in Khandelwal being reprimanded for accusing Jackson of "defaming" her in hustings, and Jackson being hauled up in front of a disciplinary hearing to be told that his campaign had grown "unacceptably aggressive".
In a statement on Sunday, Jackson accused Khandelwal of "a massive lack of transparency and accountability", to which she responded that it was "disappointing" that he chose to focus on personal attacks rather than issues.
Khandelwal fell slightly behind Jackson in the first round of voting, in which he took 936 votes to her 910.
However, when the second-preference votes of Pasquina and RON, which took 465 and 376 votes respectively, were allocated, Khandelwal narrowly prevailed, beating Jackson by just 69 votes. None of the candidates or their campaigns were present at the results announcement tonight.
In the rest of the CUSU/GU elections, all candidates for uncontested positions won election, and Daisy Eyre defeated Jack Drury and Keir Murison to win the presidency
Comprehensive elections coverage
The latest news and analysis on the CUSU Elections, all in one place.
Visit Varsity's Elections 2017 hub.