Eyre launches broadside at Elections Committee as campaigning resumes
Following a nine-hour ban issued after a flyer with an abusive message was found, Daisy Eyre has returned to canvassing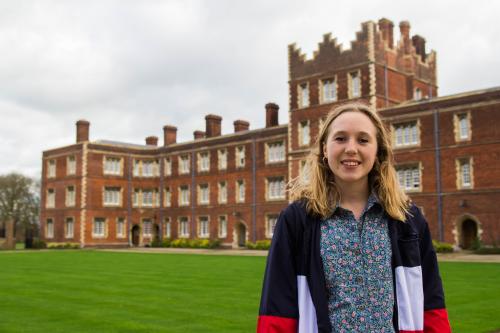 Former Jesus president Daisy Eyre has resumed her push for the Presidency of CUSU following a nine-hour campaigning ban, issued by Elections Committee (EC) after one of her flyers was vandalised with an abusive message directed at another candidate, Jack Drury.
After the ban dropped at 8pm, Eyre took to Facebook to condemn the actions of the Elections Committee.
"I would like to express my extreme disappointment with the elections committee," she said. "To discipline me without thorough investigation, or even informing me of what was going on, was entirely unprofessional and excessive. Perhaps unwittingly, the members of the committee behaved in a political fashion, undermining my campaign and threatening the democratic process."
She said that EC had not extended her the courtesy of a meeting before issuing the ban, arguing that this was inconsistent with how they handled issues with Josh Jackson's campaign for University Councillor.
"The defacement of one of my flyers with disrespectful comments was utterly unacceptable," she added, "and I condemn it entirely. Nevertheless, to lay the blame for this at my feet with no warning and no evidence is outrageous. There is no evidence that this was carried out by anyone who supports me."
Following the ban, which was initially set to last for 12 hours but was cut to nine following a meeting between Eyre's campaign and EC, Eyre made a complaint to the Junior Proctor, Cristiano Ristuccia. Ristuccia is understood to be currently investigating the incident, with a decision expected shortly.
EC told Varsity: "We feel it would not be appropriate to comment while the Junior Proctor continues investigating."
Presidential candidate Keir Murison expressed his desire to move past the incident, describing it as "a really unfortunate incident in a campaign that has had no animosity thus far."
He said he did not wish to comment on the actions of EC, but said "we need to move on and continue with the positive and productive campaigning that has been run by all sides."
Drury told Varsity "I'd like the election to continue in a fair spirit" and "would like to reiterate my plea that I want people engaged in CUSU"
Comprehensive elections coverage
The latest news and analysis on the CUSU Elections, all in one place.
Visit Varsity's Elections 2017 hub.