Eyre given campaign ban after leaflet calls Drury a 'lying Tory'
A vandalised leaflet was submitted by a student at Homerton College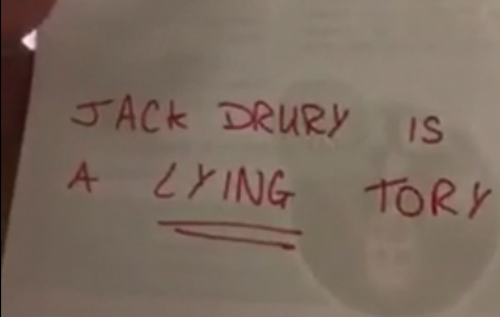 Update 12:36pm: Statement from Eyre campaign added.
Update 12pm: Following a meeting with Elections Committee in which her campaign offered a "complete condemnation" of the incident, Eyre's ban has been shortened to 9 hours. She will be allowed to resume campaigning at 8pm today.
Daisy Eyre has been called for a formal disciplinary meeting and received a 12-hour campaigning ban after her campaigning leaflets were distributed with a derogatory attack on Jack Drury on the back.
A leaflet with "Jack Drury is a lying Tory" written in red pen on the back, along with the words "Vote: 1) Daisy 2) Re-open 3) Keir 4) Jack", was distributed under the door of a Homerton student, seemingly suggesting the order of preferences students should give in the STV system.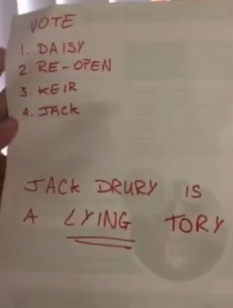 Eyre, whose campaigning ban begun at 11am and who is to meet with the Elections Committee at 11:25am, denounced the attack: "I wholeheartedly condemn that language and sentiment, if indeed it was used by someone who supports me," she told Varsity.
Jack Drury reacted to the insult: "We knew this competition would get heated, but targeting my campaigners in this way is beyond the line. I'm fighting fair and fighting hard to make CUSU work."
It is as of yet unclear who wrote the message on the back of Eyre's leaflet.
In a Facebook post, Elections Committee (EC) – who issued the ban – condemned the attack: "The EC emphasises that personal attacks of this nature are unacceptable and the Eyre campaign has had this reinforced with them. The EC wish to see this campaign fought cleanly and on policies, and will not allow such conduct."
In a Facebook update posted after her meeting with Elections Committee, Eyre condemned the comments and distanced herself from the leaflet:
"We are absolutely shocked and disappointed by the incident which came to light this morning," she said. "Writing this inappropriate and disrespectful remark on one of my flyers is entirely at odds with my campaign. I do not know where the flyer came from and I hope it was not from anyone who supports me. We have no evidence of the source of this defaced flyer and I entirely condemn it.
"I have always endeavoured to run a positive campaign and have enjoyed interacting with both of my opponents and their supporters. I apologise profusely for any distress caused, receiving such a leaflet must have been deeply unpleasant. I have sent a personal apology to the individual affected.
"Because we have no evidence as to where or whom this leaflet came from, I have asked that this campaign ban be overturned. This disciplinary action will not undermine my campaign, because my supporters are a group of fantastic people in whom I have so much confidence.
"We are taking our appeal to the Junior Proctor, and hope to be fully vindicated in our belief that our campaign should not be implicated in this act."
Election rules state that campaigns may not personally abuse candidates, and that students running for positions must take responsibility for their own campaign teams.
Eyre has previously had two warnings sustained against her, after members of her campaign posted in the comments of Facebook posts.
Comprehensive elections coverage
The latest news and analysis on the CUSU Elections, all in one place.
Visit Varsity's Elections 2017 hub.