Presidential candidates to face off on Cam FM
Tune in at 1pm today to hear Varsity host the longest debate between all three candidates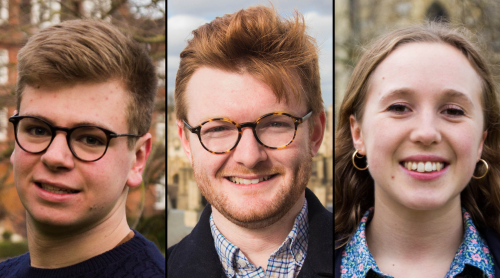 The Sunday Review, Varsity's weekly news programme on Cam FM, will host CUSU President hopefuls Jack Drury, Daisy Eyre and Keir Murison. Broadcasting at 1pm this afternoon the show features 35 minutes of discussion, the longest time the candidates will spend publicly debating each other.
Listeners, tuning in to 97.2FM, will be able to message in questions via the online Cam FM player or via Twitter on @camfm972. 
The three candidates began their campaigns on Friday morning with a barrage of social media events and flyers. Eyre, former president of Jesus College Student Union (JCSU) seems to have gained some early momentum with 356 people attending her facebook campaigning event, compared to 136 and 162 for Drury and Murison respectively.
Drury, a conservative-leaning History student, and Murison, a 3rd year Natsci, have already conflicted in the past over the publication of Class Lists.  Students voted to keep the class lists with a new opt-out system, putting Drury, a spokesperson of Save The Class List, on the winning side. Murison, President of Student Minds Cambridge (SMC) at the time, campaigned for the abolition of the Class Lists and so may have to implement a policy he actively opposed.
In spite of the result of the referendum, Eyre told Varsity that Class Lists should not be publically available as they are "distressing to students" and further argued that that class lists are possibly illegal on data protection grounds. In contrast, Murison vows to respect result of the student referendum.
Another topic that may split the candidates is CUSU's affiliation with the National Union of Student's (NUS). Last year, accusations of antisemitism against NUS President Malia Bouattia triggered a referendum in which students narrowly voted to remain affiliated.
Eyre argues that we should remain affiliated, but would back a second referendum if Council was dissatisfied with an increase in affiliation fees. A more skeptical position is offered by Murison, citing concern in the wake of the antisemitism controversy and stressing the NUS' need for change. Drury has so far sidestepped the issue, stating that it is an issue for CUSU council and not for the President to dictate.
Students will choose their President next week, from 7th-10th March, with the winner announced on Friday 10th March
Comprehensive elections coverage
The latest news and analysis on the CUSU Elections, all in one place.
Visit Varsity's Elections 2017 hub.