Weekend roundup: Gloves are off as candidates step up campaigning
Saturday proved a rather sleepy day for campaigning, aside from daisies along the riverbank and a few missing minibuses, while Sunday was a hotbed for feisty comments and rule breaches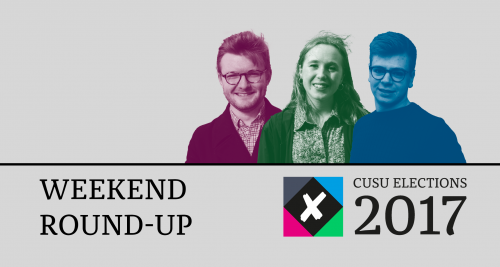 The Sunday Review: Live CUSU Presidential Debate
CUSU Presidential candidates Daisy Eyre, Keir Murison and Jack Drury went head to head about CUSU council and Drury's relationship with CUCA and 'Save the Class Lists' on The Sunday Review, Varsity's weekly show on Cam FM.
Drury called CUSU Council a "mind-numbing joke", despite having only attended a handful of times, while a listener interrogated the "toxic" nature of CUCA.
Murison was rather more moderate in emphasising his memorable tripartite of policies, 'equalise, engage and encourage', particularly on the topic of mental health in relation to class lists. Eyre criticised the "bureaucratic" nature of the council while stressing its potential power.
Bad Candidate
2 complaints made against Daisy Eyre were upheld, one for the prohibited use of The Tab's Facebook page for publicity by an Eyre campaigner. No formal action has been taken against Eyre, as she complied with requests to take down the posts from Facebook.
1 complaint was upheld against Drury and another was made but was rejected.
Josh Jackson also had a complaint upheld against him earlier in the week.
University Councillor tensions
University Councillor candidate Josh Jackson launched a fiery attack against his opponent, incumbent Umang Khandelwal. In a statement passed on to Varsity, he attacked her alleged "massive lack of transparency and accountability" over issues such as divestment.
However, Khandelwal fought back, saying she "fundamentally disagree[s] with his version of the past year." Khandelwal deemed Jackson's critical campaigning method "profoundly disappointing", while Jackson painted her as "uncommunicative", unlike "the kind of University Councillor I will be".
Campaign video release
Drury and Murison released their official campaign videos today.
Sitting on a cream couch and staring straight at the camera for 3.5 minutes, Drury introduced himself as #48 on the Tab's BNOC list, but emphasised his policy priority to make it to #1 next year, by "delivering a CUSU that works for you".
Meanwhile, jazzy background music and a giant microphone accompany Murison as he walks through a number of colleges repeating his three-pronged approach yet again.
Daisy bumps the competition
On Saturday, candidate Daisy Eyre attended a number of events with students from different colleges, most notably handing out flyers and speaking to her peers at Lent Bumps.
Minibus Policy Mystery
On Saturday evening, Drury posted the following on his campaign's Facebook event: "CUSU used to have minibuses available for student teams to hire; despite the website still advertising this, CUSU claim the service has been 'wound up'. Did CUSU manage to lose minibuses? I'll restore the service."
A 2011 job advert for the role of CUSU receptionist confirms Drury's claim, outlining the receptionist's responsibility to "manage the minibus service." However, the 2011-2012 CUSU budget allocated none of its allowance to the minibus service. Further to this, the "vehicle hire" section of CUSU's website reveals an 'Error 404', while the Sports and Societies syndicate website claims that CUSU "operates the CU Vehicle Hire Scheme, offering two eight-passenger minivans and an equipment van".
Varsity understands that the scheme was quietly rolled up by CUSU at some point before this year
Comprehensive elections coverage
The latest news and analysis on the CUSU Elections, all in one place.
Visit Varsity's Elections 2017 hub.