Presidential hopefuls go head to head on The Sunday Review
The CUSU candidates were grilled by the hosts, listeners and each other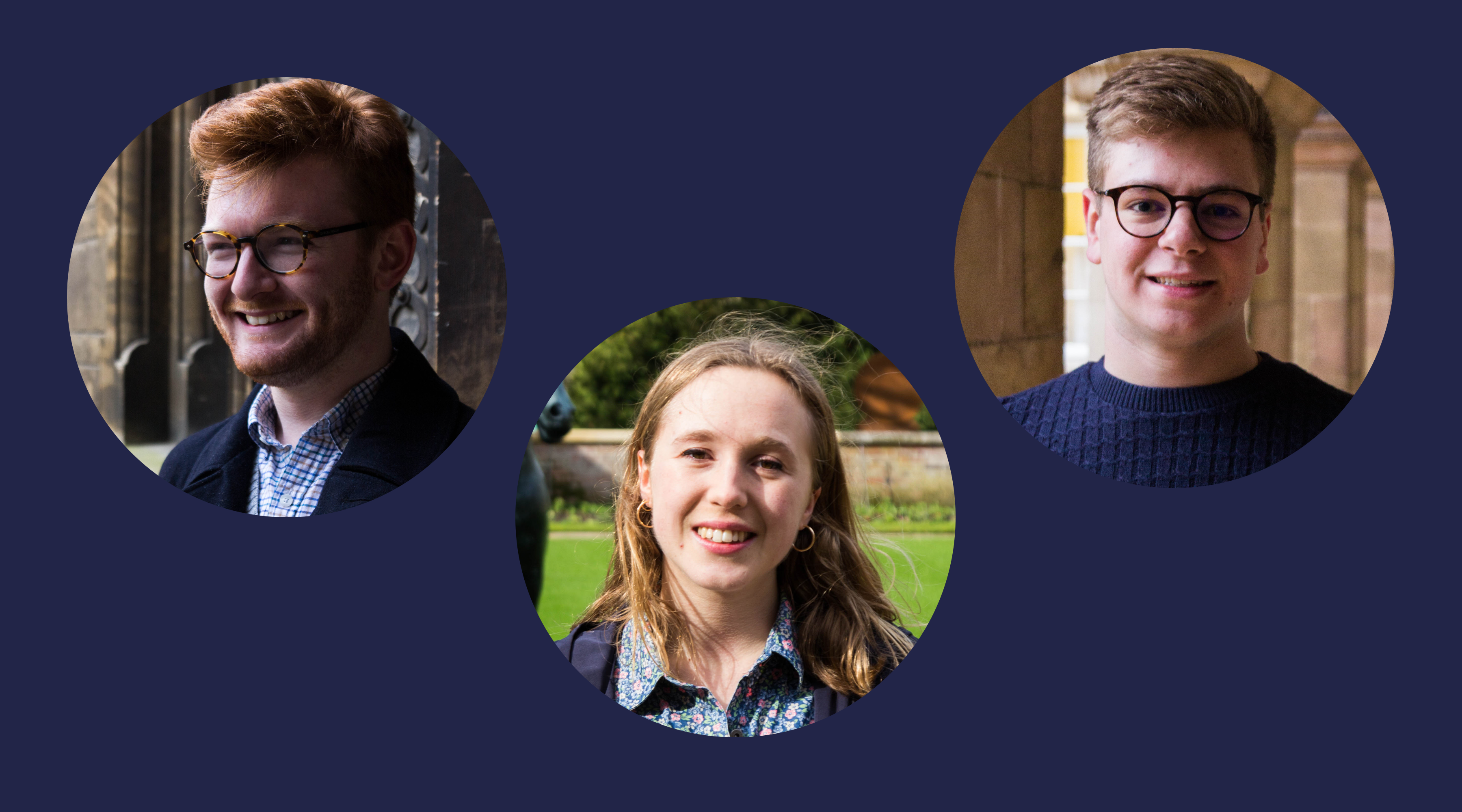 CUSU Presidential candidates Daisy Eyre, Keir Murison and Jack Drury clashed today over issues including the state of CUSU council, Drury's connection to CUCA and Class Lists on The Sunday Review, Varsity's weekly radio news roundtable show on Cam FM.
In their opening statements, the three candidates set out the focus of their campaigns and where they hoped to direct CUSU if elected. Drury, a third-year historian and self-proclaimed CUSU "outsider", explained that he is "running for the 85 per cent of people who didn't vote last year" and "the 15 per cent of people who did", and that he will be the "CUSU President that works and makes CUSU work".
Eyre argued that her previous experience as President and Welfare Officer of Jesus College Student Union (JCSU) showed knowledge of "how to make a difference at Cambridge" and highlighted her policy priorities of "access, mental health and student workload".
"CUSU council at the moment is frankly a mind-numbing joke"

Jack Drury
Former President of Student Minds Cambridge (SMC) and ex-Welfare Office of Emmanuel College, Keir Murison, emphasised his three main policies – "Equalise, engage and encourage" – hoping to reduce disparities between students at different colleges and engage students over "accommodation, workload and term length".
Much of the discussion focused on problems currently facing CUSU, including the low turnout at CUSU council meetings, mismanagement of The Cambridge Student (TCS) and low engagement with most students.
Despite having only attended CUSU council a few times, Drury heavily criticised the fortnightly meeting of CUSU's governing body: "CUSU council at the moment is frankly a mind-numbing joke. It is an appalling use of your JCR and MCR President's time. On the times I've been it started about 45 minutes late."
JCR Presidents don't know the thoughts of every single student at their college"

Keir Murison
A more moderate critique was offered by Eyre and Murison. Eyre, who has attended as JCR President for more than a year, criticised Council as a "bureaucratic space" and proposed to make it "more of a forum for policy" by moving more of the pre-Council discussion into the Council itself. The Jesus third-year went on to defend CUSU as "the most powerful voice for students at the university".
Under his policy of "engage", Murison said that he would "survey" and meet with students before Council as JCR Presidents "don't know the thoughts of every single student at their college". This would allow a "proper conversation" to take place in Council itself.
Listen again to today's The Sunday Review
The Sunday Review hosts challenged Murison over his position on Class Lists. In his role as President of SMC Murison campaigned for abolition of Class Lists, claiming that they negatively impacted mental health. Students voted against Murison's position, in favour of keeping the Class Lists with an easy opt-out system.
Nevertheless, Murison was adamant that he would "respect the result of the referendum" and that his previous opposition put him in a better position to "avoid the problems of an easy opt-out system".
On the other side of this debate, as a spokesperson for Save The Class Lists, Drury campaigned successfully for the Class Lists to remain. He told listeners today that he is "the only candidate who is completely committed to an opt-out" and would even stand in "Senate House with a black marker pen". Although Eyre did not comment on Class Lists during the show, in a recent interview Eyre told Varsity that Class Lists were "distressing to students" and further argued that that they were possibly illegal on data protection grounds.
"Eyre clarified that she wasn't claiming to 'get Cambridge to change the amount of workload that we have'"
One listener asked Drury to "clarify his connection with CUCA [Cambridge University Conservative Association", describing the organisation as "toxic" and suggesting it could limit his ability to "legislate in the interest of the University and the Student body". The right-leaning Caian stated clearly that he was a member of CUCA and "known for speaking at Port & Policy [events] and also known for publishing the Cambridge Direct-Tory", the Association's fresher's guide. Drury was adamant that the "relevant politics" were set out in his manifesto and that it wouldn't affect the role as president.
However, Eyre and Murison questioned whether his conservative politics had resulted in blind spots in his manifesto. In particular, Murison drew attention to the fact that Drury had placed mental health at the bottom of his manifesto, "tacked on at the end", while Eyre suggested that Drury's right-wing ideas may be behind the absence of any policies on access.
The hosts also questioned the presidential hopefuls on how they would implement their policies, leading Eyre and Drury to qualify some of their manifesto pledges. In a campaigning leaflet Eyre wrote that she would "strive to tackle student workload", but on The Sunday Review clarified that she wasn't claiming to "get Cambridge to change the amount of workload that we have". Similarly, Drury admitted that he had "no way of implementing" his policy for Wednesday afternoons to be non-teaching times, but that "he will make the case to the University".
The discussion promised a week of intense campaigning ahead, with a sense of genuine competition rarely seen in student elections. The candidates will have another chance to debate their policies at the official hustings tomorrow
Comprehensive elections coverage
The latest news and analysis on the CUSU Elections, all in one place.
Visit Varsity's Elections 2017 hub.