St Catharine's student assaulted on Silver Street bridge
The Senior Tutor sent round an email this morning warning students not to wear gowns about town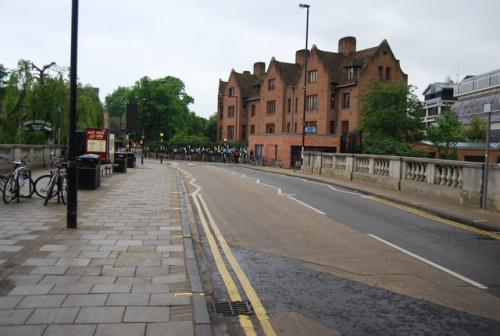 A student from St Catharine's College was assaulted on Silver Street bridge on Sunday morning at approximately 9:15am, according to an email sent round this morning to all St Catharine's students by the Senior Tutor, Dr Paul Hartle.  
The email states that the aggressor tried to take the student's bike and used abusive language, and that the police are investigating the assault.
A police spokeswoman told Cambridge News: "The victim contacted us to say they were verbally and physically assaulted by a man on Silver Street Bridge at around 9.15am on Sunday morning.
"He was cycling across the bridge when the man, who is described as tall, white, of a medium build with a beard, approached him and verbally abused him before assaulting him."
Hartle suggests in his email that the incident may have been provoked by the climate created by the Pembroke student, Ronald Coyne, burning a £20 note in front of a homeless man, which has caused a major backlash amongst the Cambridge community and nationally.
The Senior Tutor said that the fact the student was wearing a gown is a possible impetus: "The student was wearing his gown which may have occasioned the incident, given recent unhelpful local publicity about the stupidly arrogant behaviour of a particular student (from another college)."
He has advised students to refrain from wearing gowns in town: "Whilst I suspect this was a random act, it might be prudent for a while at least not to wear your gown about town."
The University declined to comment in detail on the incident before the conclusion of the police investigation. A University spokesperson said: "We can confirm there was an incident on Sunday morning that has been reported to police. We cannot comment further while a police investigation is ongoing."
This article has been update to include comment from the police and Cambridge University