Cambridge responds to £20 note-burning incident
£4,000 raised for Jimmy's Night Shelter, over 17,000 signatures on a petition to expel Coyne and Pembroke College calling for a "period of calm reflection"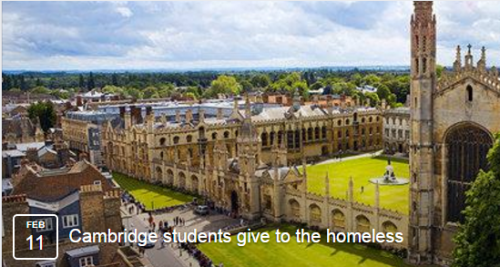 On Thursday it was revealed that Ronald Coyne, a first-year law student at Pembroke college, burned a £20 note in front of a homeless man in the early hours of 2nd February. Since then the homeless man himself has spoken out, a petition calling for the expulsion of Coyne has received over 17,000 signatures, a Facebook campaign has been set up urging students to give £20 to the homeless, more than £4,000 has been raised for Jimmy's Night Shelter and Pembroke College has called for a "period of calm reflection".
The homeless man, identified as Ryan Davies, a 31 year-old unemployed crane operator who has been homeless for three months, explained how the situation unfolded: "There were some people going past and I was asking them for spare change. I'm homeless. I asked one man for spare change. I was polite about it as I always am. 
"He says let's see what I've got and pulls out a £20 note and went to pass it to me.

"I couldn't believe my luck. But then he pulled it back and lit it and said 'I'll give you some change, I've changed it into fire."
Davies described his reaction to the incident: "It was absolutely disgusting. It was horrible. Just plain nasty."
A petition to expel Coyne from the University of Cambridge has received over 17,000 signatures and there has also been a call for him to work 200 hours in a homeless shelter. 
Since the incident more than £4,000 has been raised for Jimmy's Night Shelter.
Richard Dent, a PhD researcher in the University's Department of Sociology has launched a Facebook campaign urging students to give £20 to the homeless, following the controversy. 
Dent said that he founded the campaign because he was "disgusted" by the incident.
He told Varsity that he had discovered the identity of the homeless man who was caught in the video and intends to find him and give him £20. He also urged other students to make their own £20 contributions to homeless people and homeless charities in the city.
Dent has set up a Facebook event to raise awareness of his campaign, and told Varsity that he has also spoken to CUSU about it.
Dent said that he was moved to start his campaign partly because he felt that the incident "does not reflect what Cambridge students are like", and wanted to demonstrate that the majority condemn such behaviour.
But his "main concern" was for the homeless man himself, and he told Varsity that he wants to "let the guy know" that students care about him and others in his position. He invited all Cambridge students to join him in making donations to help the homeless in the city.
Pembroke College released a statement yesterday about the incident: "We are aware of the incident that took place in the early hours of Thursday 2 February, 2017. This incident has been referred to the University's disciplinary process. We cannot comment further while this process is underway."
It has since circulated an e-mail amongst its members informing them that the incident "is now (rightly) subject to a University disciplinary investigation" and calling for "a period of calm reflection".
The e-mail recognises the "distress and outrage" caused by the incident, but urges its members not to respond with "hatred or abuse", adding: "As a community, Pembroke places great value on how we treat others. We have a longstanding history of respect and support for others, especially those in need."

A Cambridge University spokesperson said: "The University is committed to respecting the rights and dignity of all members of our community. We expect our students to treat others with respect, courtesy and consideration at all times, and the University takes allegations of unacceptable behaviour very seriously. We do not comment on individual cases."
Coyne's mother, Sandra McLaughlin, has also expressed her shock at the incident saying that she said could not understand her son's behaviour.

Speaking from their family home in Livingston, West Lothian, she said: "I don't recognise that behaviour in my son. I don't really know why he's done something so thoughtless and cruel.

"It's completely out of character. He did two years of volunteering at Stockbridge shelter homeless shop in Edinburgh when he was still at school.

"It's very surprising. We're just a normal family. We're not toffs, he's not a toff."

Coyne has taken down all of his online profiles and has yet to make any public comment on the incident.
This article was updated on 12/02/2017 to include a new statement from Pembroke College.