NUS Vice-President hits back at 'conspiracy' allegations
Richard Brooks claimed that his opposition to NUS President Malia Bouattia was well-known and slammed the "toxic level of debate" in the organisation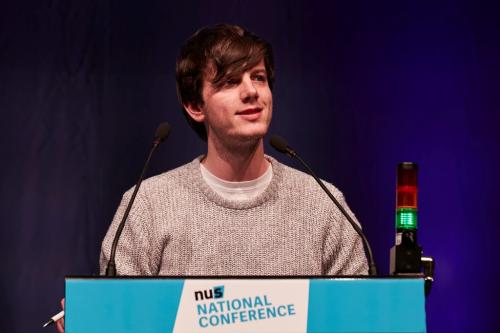 NUS Vice-President for Union Development, Richard Brooks, has hit back at criticism of his conduct, following a sting operation by Al-Jazeera, previously reported by Varsity.
The news network broadcast a documentary last night, including footage which shows Brooks discussing his opposition to the union's president, Malia Bouattia.
In the documentary, Brooks, talking to an undercover reporter for Al-Jazeera, accuses Bouattia of being a "racist" and says that he is "helping [to] organise" internal opposition to her leadership.
He claims in the footage that he, Russell Langer from the Union of Jewish Students (UJS), and former chair of Labour Students Michael Rubin would have "little secret purpose meetings where we'd plan how to get moderate people with good politics and any number of things elected to certain places."
In a statement on social media, Brooks said: "It's no surprise to anybody who knows me, or has heard me speak publicly, that myself and Malia don't see eye to eye on NUS or the future of the student movement... Myself and the far left elected leadership politically disagree on lots of things. It's therefore not a shock or an exposé that I politically organise against what I think to be an ineffectual and damaging Presidency for Students' Unions and for Students."
Once again; never met anyone from Israeli gov't, not part of a conspiracy, allowed to disagree in democracy. Overextended with no proof. pic.twitter.com/4uZ7MuorL9

- Richard Brooks (@Just_RichardB) 11 January 2017
Richard Brooks' statement on Twitter
The Al-Jazeera video also shows Brooks claiming to have visited Israel on a trip funded by the UJS, which he says emboldened him "to start talking about some of this stuff more seriously".
Rubin was recently implicated in revelations that the chief political officer of the Israeli Embassy had been involved in creating pro-Israel political groups in Britain. He separately told the undercover reporter that he works "with the ambassador and embassy quite a lot".
This, in addition to Brooks' and Young's trip to Israel, have led some to claim that the Israeli Embassy is attempting to influence the NUS.
In his statement, Brooks acknowledged that he had visited Israel and refused to apologise for it, citing long precedent. He also praised the UJS, saying that its work "to raise the debate about the Middle East and anti-Semitism in society is noble and inspirational."
Brooks said that he had also received and accepted invitations from the Federation of Student Islamic Societies (FOSIS) but was unable to take them up due to constraints on his time.
A second NUS Vice-President, Robbiie Young, was also reported to have made the trip and participated in Brooks's efforts to oppose Bouattia. However, in a statement on Facebook, Young denied having made the visit to Israel and expressed surprise at attacks on him online.
He also acknowledged that he had made a trip to Israel with the UJS but claimed that it had been two years ago, while his most recent, one month ago, was with the World Union of Jewish Students Congress to receive an award for his work with Jewish students.
He described it as a "trip I was open about, that doesn't break any of NUS' policies, and one which I'll be reporting to the next NEC on my attendance."
Brooks has previously been publicly critical of Bouattia but never in such stark terms. In September, he offered moderate criticism of the president's relations with Jewish students, saying: "It is obviously a very challenging and nuanced argument but when a number of Jewish students over a consistent period of time say they do not feel safe participating in student politics and in the student movement, I think we have to take that really seriously and listen."
He suggests in the Al-Jazeera footage that these comments were discouraged by the students' union, saying: "NUS' internal structures don't usually allow a vice-president to go and publicly criticise your president on national radio, but you got to do what you got to do."
"The idea that I am part of some kind of global conspiracy co-ordinating with global governments to 'overthrow' NUS' leaders is as wrong as it is hurtful"

Richard Brooks
Explaining his meeting with the undercover reporter, he said in his statement that he "talks to many people" and that "when someone claiming to be a student involved in our movement and left wing politics emailed me asking to chat about getting involved in student groups for Jewish students of course I met them."
He wrote that he had not been aware that the person was a journalist and described their conversation as "a waste of 20 mins of my life that caused far more trouble and stress and threats of violence than it's worth."
He added: "The idea that I am part of some kind of global conspiracy co-ordinating with global governments to 'overthrow' NUS' leaders is as wrong as it is hurtful – I met someone who I thought was a student organiser for coffee."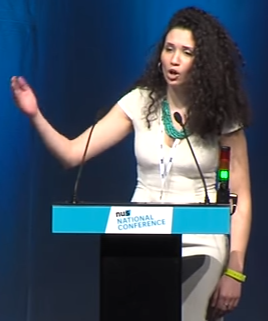 Brooks also implied that the negative reporting of the incident was the work of supporters of Bouattia from within the NUS itself. He said: "It turns out that people who used to organise with Malia and vote with her and support her whilst on NEC attacking me and Megan [Dunn, former NUS president] and Students' Unions are now journalists in the media."
Brooks concluded: "I have never met – to my knowledge – someone from the Israeli Government. I organise legitimately and politically within NUS' structures to get the best outcomes for students' unions as our members. I meet different student groups across the political spectrum. I try and learn about conflicts. The 'exposé' documentary shows me saying that I do politics and disagree with the far left. None of these thing are surprises.
"What is surprising is the ability of certain groups of the student movement to condemn me, post violent threats against me and link me to a worldwide conspiracy... What is of note is the toxic level of debate surrounding NUS and us as national officers."
The Campaigns Director of the UJS, Josh Nagli, defended his organisation on Facebook, writing: "My work and that of UJS when it comes to NUS is supporting Jewish students with diverse views to actively participate in the student movement and develop as civic and community leaders. We also support Jewish student activists and J-Soc leaders to advocate on the issues affecting them."
He denied undue collaboration with the Israeli Embassy, saying: "We have a productive working relationship with the Israeli Embassy in the U.K. and warm contacts with a range of Israeli civil society organisations. We are of course neither funded nor in any way directed by the Israeli Embassy."
Responding to the issue of Brooks' trip to Israel, he said: "Our work taking student leaders to Israel and Palestine is not secret, it's even mentioned on UJS' Wikipedia page, and the fact that some participants choose not to broadcast their experiences reflects the toxic nature of student politics".
"The insidious suggestion that Jewish students – or Jews in Britain more broadly – slavishly support specific government policies or actions, conspire with or take direction from Israeli officials, is grossly offensive."

Josh Nagli, Campaigns Director, UJS
He concluded: "There is no plot and nothing secret about us supporting our students ... The insidious suggestion that Jewish students - or Jews in Britain more broadly - slavishly support specific government policies or actions, conspire with or take direction from Israeli officials, is grossly offensive."
Some members of the NUS National Executive Committee have rallied against Brooks and Young. LGBT+ Officer (Open Place) Noorulann Shahid said on Twitter: "we have concrete evidence that the campaign to oust @MaliaBouattia was orchestrated by 2 of her vice presidents and the Israeli gov[ernmen]t".
They added: "As a member of NUS NEC [National Executive Committee], I'll be collaborating with others to ensure we get proper answers and the VPs are held to account."
Vice-President (Communities) for NUS Scotland Conor Marshall has tweeted his disapprobation, calling the behaviour of Brooks and Young "vile".
Been lost for words for an entire evening. My utmost love and solidarity to @MaliaBouattia who gets up every day & fights for students

- Sorana Vieru (@SoranaBanana) 10 January 2017
Vice-President Sorana Vieru responded on Twitter
Fellow Vice-President Sorana Vieru refrained from criticising Brooks and Young directly, but tweeted her "utmost love and solidarity to @MaliaBouattia who gets up every day and fights for students."
However, the criticism of Brooks has not been limited to Bouattia's supporters. Adam Crafton, one of the leaders of the No to NUS campaign during the Cambridge referendum on disaffiliation and a frequent critic of the NUS's leadership, told Varsity: "While a solar eclipse may be a more familiar sight than an NUS representative defending Jewish students, there is clearly a way to go about things and this is not it. If anything, the carelessness Brooks has shown and the subsequent backlash will only set the interests of Jewish students back. Sympathy, support and solidarity for the anti-Semitic leadership was rife on social media already on Tuesday night and in striving clumsily to help, Brooks ends up flat on his face."
A spokesperson for the NUS said: "NUS takes these allegations seriously. We are looking into them and, when we have all the information available, the behaviour of NUS officers will be reviewed and appropriate action taken."
Varsity has contacted Malia Bouattia for comment.
This article has been updated to include a statement from Robbiie Young