Inflation-busting pay rise for Cambridge Vice-Chancellor
Ordinary academics see earnings stagnate for another year, as union raise concerns about large increases for Russell Group university leaders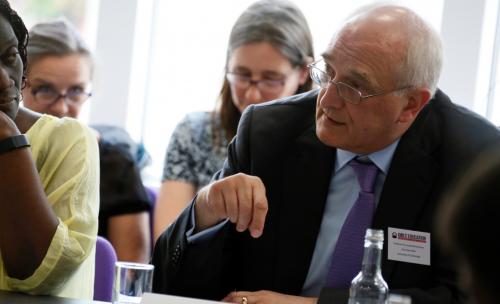 Cambridge Vice-Chancellor Leszek Borysiewicz received a pay rise of 7.3 per cent last year, as new figures published by Times Higher Education showed Russell Group vice-chancellor salaries increasing by on average 3.7 per cent.
While the average member of academic staff at a Russell Group university received just a one per cent pay rise in 2015-16 – and some saw their take-home pay fall amid increasing pension contributions – Russell Group vice-chancellors (VCs) now earn an average of £342,200 a year, almost £20,000 more than in 2014-5.
The outgoing Vice-Chancellor of the University of Cambridge earned £349,000 in 2015-16, an increase of £24,000 on the previous year and slightly ahead of the Russell Group average. Figures seen by Varsity indicate that Borysiewicz is the second highest-earning employee of the University.
However, as Varsity revealed last April, Sir Leszek's successor, Canadian Stephen Toope, is in line for a substantial pay increase which could see him earn a salary in the region of "£400-450k": potentially placing him among the highest paid vice-chancellors in the country.
Even so, Toope's salary will trail far behind international competitors. In 2014, the last year for which figures are available, an Ivy League president could expect to earn over £900,000 per annum, with University of Pennsylvania president Amy Gutmann taking home £1.9m in that year. In Australia's 'Group of Eight' universities, average salaries also exceeded Russell Group earnings at an average of £536,320 for 2015.
Despite government warnings over executive pay and benefits, three Russell Group institutions offered substantial severance payments to outgoing vice-chancellors, most notably the University of Southampton, whose vice-chancellor received a £252,000 bonus after retiring from his post a year early, alongside a £43,000 "performance-related bonus". When added to the £352,000 paid to his successor for the remainder of the year, this brought Southampton's total remuneration spending – including pensions – to the two holders of the vice-chancellorship that year combined to £697,000, more than £200,000 more than the next biggest spender.
With Southampton's outlying figure included, average VC salaries across the Russell Group rose by 5.9 per cent. With it excluded, the average is 3.9 per cent, or around £19,000.
Speaking to Varsity, a spokesperson for the University of Cambridge said: "The University of Cambridge is one of the world's leading institutions, and must compete globally to attract the best qualified individuals. An important component of reaching the recommended range for remuneration is careful analysis of published data about vice-chancellors' and Presidents' pay in the UK and internationally."
A spokesperson for the Cambridge branch of academics' union the University and College Union (UCU) told Varsity: "Pay for most University employees has suffered from years of below-inflation increases, and many employees are retained not by the size of their salaries, but by commitment to their job. It is disappointing that the Vice-Chancellor is not able to stand with the majority of his University's employees in the matter of pay, and has instead received far more generous increases, both in relative and cash terms.
"Of course we recognise that, despite Cambridge being the richest UK University, our VC does not have the highest pay packet. But we are nevertheless disappointed that there is still not sufficient restraint to demonstrate that the VC appreciates the financial realities faced by many University employees in this expensive city, and the sacrifices that they make in their service to the University."
Sally Hunt, the UCU's general secretary, said: "Taking inflation-busting pay rises at such a tumultuous time for UK higher education does not show good leadership. These institutions have the worst records for putting staff on insecure casual contracts so there is an even greater sense of injustice that there is one rule for those at the top and one for everyone else."
The head of the Russell group, Dr Wendy Piatt, defended the increases, telling THE salaries were recommended by experts who understand the "importance of attracting and retaining experienced individuals who can demonstrate the highest calibre of leadership".