Graduate premium 'gross mis-selling', says report
Intergenerational Foundation brands degree bonus 'mythical', although Oxbridge graduates may still benefit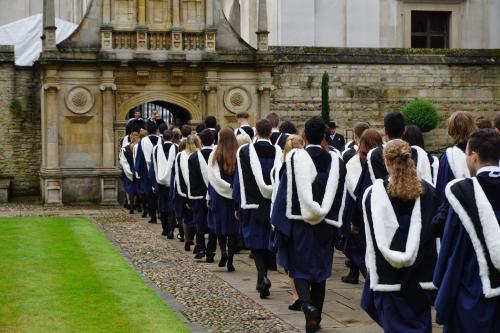 A new report has hit out at rising tuition fees and the freezing of graduate repayment rates.
The report, produced by the Intergenerational Foundation (IF) challenges the existence of the so-called "graduate premium", the amount that those holding a degree can expect to earn above those with no degree level qualification.
It is widely believed that graduates can expect to earn an average  of £400,000 extra over the course of a working career, a figure calculated in 2002 by the then-higher education minister Margaret Hodge.
But the IF argue that this figure is now out of date, and that even the more modest £100,000 suggested by a 2013 report from the Department for Business Innovation & Skills may be an overestimate.
Loan repayments of up to £53,000, income tax, and National Insurance contributions over the course of a lifetime will "wipe out any graduate premium in all but the highest-paid professions and for all but the most successful people in business or other fields", the report alledges.
However, Oxbridge graduates are notably shielded from the declining graduate premium - those with a first from Oxford or Cambridge can still expect a £400,000 bonus to their lifetime earnings.
The report suggests that static undergraduate admissions to Oxbridge, mirroring a similar policy at the USA's elite Ivy League universities, while virtually every other university is expanding "can only strengthen their elite position".
Employers often consider degrees from Oxbridge, and other Russell Group institutions, as the "first filter" for graduate jobs, while other graduates are "lumped together". Ever increasing student numbers, and grade inflation at "Red Brick" universities are blamed in the report for low-skilled employers now requiring applicants to hold upper-second class degrees.
The report does note, however, that several factors seem to impact career earnings more than where a graduate studied, or what class they achieved. Secondary education, particularly access to the country's top independent schools and state sixth forms, access to internships and placements, and socio-economic background are all considered more significant influences on graduate income.
Concluding, the report condemns the deregulation of the higher education sector, the lifting of restrictions on student numbers, and rising tuition fees, warning of a "debt-generating engine" that could lead to "lower and lower entry standards and huge drop-out rates blighting the financial future of a generation of graduates – and ultimately the entire economy."