Cambridge JSoc endorses NUS disaffiliation
Cambridge University Jewish Society comes out in support of disaffiliating from NUS following election of Malia Bouattia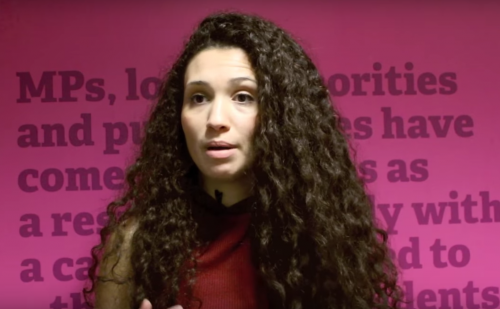 The Cambridge University Jewish Society have formally endorsed a proposed motion calling on CUSU to hold a referendum as to whether they should disaffiliate from NUS. 
At the same meeting, held earlier today and attended by 40 members, backing was given to disaffiliation should such a referendum go ahead.
The meeting comes amidst allegations of anti-Semitism against recently elected NUS president, Malia Bouattia. It is alleged that she has in the past described Birmingham University as a "Zionist outpost", and spoken out against what she calls the "Zionist-led media."
The first motion, stating that "CUJS would officially adopt a position of support for a CUSU referendum leaving the NUS, allowing for the possibility of re-affiliating at a later date", was passed with 85 per cent voting in favour. 
The second, which read: "If such a referendum is facilitated by CUSU, CUJS would back CUSU disaffiliating itself with the NUS", was passed with 64 per cent voting in favour. 
Following the vote, CUJS released the following statement: "Cambridge University Jewish Society has passed a motion in support of a CUSU referendum regarding disaffiliation with the NUS. In light of the election of Malia Bouattia, whose rhetoric has disturbed many of our members, a referendum will allow Cambridge University students to decide whether they wish to be represented by the NUS."
Oriyan Prizant, an Israeli-Jew who spoke at the event, told Varsity that he was concerned about "an anti-semitic person leading an organisation fostering anti-semitic comments and behaviour."
He went on to say that Bouattia "[utilised] ambiguity of language and terminology to her advantage - on the one hand to deliver clearly anti-semitic messages; on the other to defend herself by claiming that those messages refer to purely political matters."
Responding to the vote, NUS: Let Cambridge Decide - the campaign group that proposed the initial motion - said they were "thrilled that the Cambridge University Jewish Society has decided to support our motion to CUSU Council for a referendum on disaffiliating from the NUS. Our campaign is centred on a rejection of anti-Semitic rhetoric and a firm belief that the NUS is failing in its objective to be a 'leading exemplar of equality and diversity.'"
"We will strive to work alongside Jewish students and ensure their experience at the University of Cambridge is as comfortable as possible. We hope that JCR Presidents will work alongside us to let Cambridge decide whether or not remain a part of the NUS in light of recent developments."
Upon its establishment the group had argued that Bouattia's election was "a horrifying message to Jewish students in the UK". 
Both Exeter and Hull universities have disaffiliation campaigns ongoing, with others planned at KCL, Durham, Oxford, and York.