Reclaim the Night 2016: 'Women united will never be defeated!'
Women and non-binary people took to the street in annual protest organised by the CUSU Women's Campaign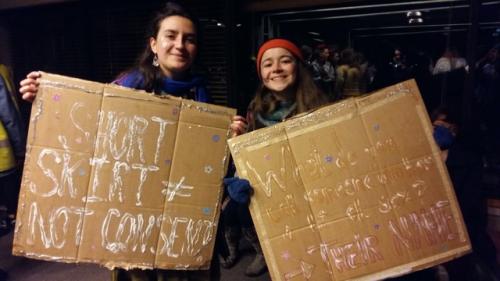 On Sunday evening, over a hundred women and non-binary people gathered at Christ's Pieces for this year's Reclaim the Night march through the streets of Cambridge.
The annual protest was organised this year by the CUSU Women's Campaign, and was attended by members of organisations such as the Cambridge Rollerbillies and the English Collective of Prostitutes as well as students of the University.
As in previous years, the march was open only to self-identifying women and non-binary people, ending with a vigil that was open to all.
A safe-space event that included crafts and snacks was held at the University Centre as an alternative to the march itself.

The event began in the rain with fifteen minutes of speeches on subjects relating to the aim of the protest: reclaiming dangerous spaces and combatting gender-based violence.
Among others, Em Travis, a second-year student and steward at the march, spoke about the complexities of consent and how it is often affected by uneven power dynamics.
At this point, marchers were given chant sheets and young children and those with mobility issues were invited to the begin the march, forming a bloc at the front in order to set the pace.
The route began up St Andrew's Street and Sidney Street, turning at the Round Church to head back down King's Parade, and finally ending outside the CUSU building on Trumpington Street.
The group left Christ's Pieces to the sound of applause from a number of staff members at a nearby restaurant.
For 45 minutes, the streets of Cambridge rang with choruses of "Women united will never be defeated!" and "Hey! Ho! Sexual violence has got to go!" as women and non-binary protesters marched, banners raised, often adorned with face paint or glitter.
Some wore 'Reclaim the Night 2016' shirts, which were sold by CUSU with an additional donation to the Cambridge Rape Crisis Centre.
Stewards were on hand to lead chants and guide the group, ensuring marchers' safety.
Participants were very positive about its atmosphere and impact. Elise Hagan, a first-year student at Trinity Hall, said that it was "great to have a march and a shout to raise awareness about such an important issue".
Elinor Clapson, Chair of Cambridge Universities Labour Club, said that the march was "very well organised and very well attended", and that she was "delighted to have a strong contingent of Labour women at the march for a second year in a row".
The event ended with a vigil in the University Centre, close to the endpoint of the march.
A small number of men joined the marching group to listen to a range of speakers. 
These included students from the local Hills Road Sixth Form College, who founded their school's Feminist Society, speaking on the effects of sexual violence. Victoria Stewart-Jolley, who has over a decade of experience working at the UN, spoke on the importance of combatting the insidious "violence that keeps us quiet." 
Suhaiymah Manzoor-Khan, a third-year History student, began the vigil by reading her poem on the theme of 'reclaim the night'; Lilia Giugni, a PhD candidate in Politics, spoke about the impact of harassment in public spaces on all aspects of the subordination of minority or historically oppressed groups.
Maha Atal, also a PhD candidate with POLIS, directed her speech at the men in the room, speaking on the role of men in the feminist movement as those who must work to redefine masculinity in masculine spaces and "open the door from the inside to let the light in".
"Violence against women is also about displaying power to other men. Men who are willing to do that already do not care about women and what women think; it is your job, as men, to confront them."
Carrie, from the English Collective of Prostitutes, spoke about the importance of listening to sex workers and pursuing full decriminalisation legislation in the UK.
"It is not an offence to exchange money for sex", she said, "but everything that would allow us to do it safely is illegal."
She added that a survey of female university students revealed that only 2 of the 240 who reported having experienced sexual violence also reported telling the police, and that nationally, only 7 per cent of rape prosecutions are successful, which is similar to the 8.05 per cent success rate in Cambridge.
"When sex workers are safe from sexual violence, all women will be safe."
The vigil ended with a reading by Priscilla Mensah, CUSU President, of extracts from the essay 'Sexism: an American Disease in Blackface' from Audre Lorde's 'Sister Outsider'.
Amin Abdelhamid, a first-year Natural Sciences student and one of the few men who joined the vigil, said that the speakers had been "incredibly enlightening".
"It's good to understand what it's like for women, for people like my sister and what she might go through, and to have empathy. It's a bit like with race...I do struggle to see how people who don't experience either can understand it."
Jonty Leibowitz, another male attendee of the vigil, described Maha Atal's speech as being particularly powerful, saying that it is "good to know what you can do as a man to help with issues like this".
Speaking to Varsity, CUSU Women's Officer Charlotte Chorley, who organised this year's Reclaim the Night, said that "the event was a great success", with a "good turnout for such an important cause".
When asked about improvements that could be made, she further added that she would like next year's event to have improved accessibility, and for it to be made "more explicitly welcoming to trans and non-binary students".
Audrey Sebatindira, who has been elected CUSU Women's Officer for next year, echoed the positive sentiment, stating that she had attended and enjoyed the event both this year and last year and describing it as both "uplifting and sobering".
She also agreed, however, that there were some improvements that could be made with regard to accessibility.
The English Collective of Prostitutes provided leaflets and materials containing information about sex work, as well as a petition issued by the Global Women's Strike calling for 'a living wage for mothers and other carers'.