My soundtrack to Michaelmas
Mollie McCarthy-Evans gives us a glimpse into her musical favourites for this Cambridge Term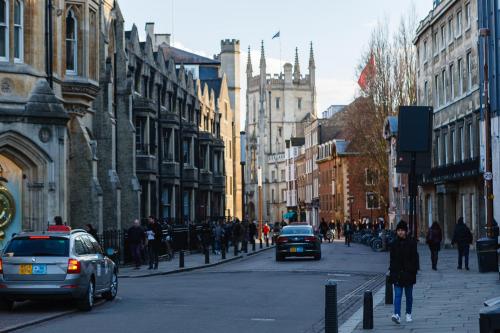 I make playlists. In fact, I make weird playlists. A simple search through my phone will uncover compilations of pop songs dedicated to Richard III, the American Revolutionary War, and Alan Turing. Consequently, it was only natural that my application to Cambridge last year would inspire the creation of a new musical masterpiece. The first edition of my soundtrack to Cambridge was mostly comprised of cheesy motivational pop that I hoped would get me through the arduous application process. Perhaps the optimism of Panic! At the Disco's High Hopes would rub off on me, making me look buoyant and enthusiastic at interview. Other notable tunes from this embryonic form of my Cambridge playlist include RuPaul's Sissy that walk and My Shot from Hamilton – 'I'ma get a scholarship to King's, Pembroke College… the problem is I got a lot of brains but no polish'. A more unusual inclusion was that of Mr Brightside, inspired by a piece of wisdom imparted to me by a current Cambridge student: 'If you like Mr Brightside, you'll be fine.' She was referring to my anxieties about clubbing but I took it to mean that listening to copious amounts of the Killers would somehow increase my chances of receiving an offer. Thus, this collection of upbeat pop songs represented my positive outlook at the early stages of the application process. I was confident that I'd get a place.
Eventually the grim reality of my chances getting into Cambridge set in and I deleted the playlist in a huff after what felt like a poor performance at interview. However, as I waited for my inevitable rejection, music continued to be a solace. Madonna's Hung Up became a firm favourite. I could easily relate to the song's narrative of a woman hung up waiting for an important call, only to decide that the caller is not as important as she believed they were – 'And I'm done, I'm hanging up on you'.In a similar vein, Taylor Swift's Better Than Revenge rocked to the top of my most played songs. I was building a wall of empowering music that I hoped would fortify me against my oncoming refusal. 
Surprisingly no rejection came and I was accepted to read History at Pembroke College. Within a few hours of receiving my acceptance email, I had resurrected my Cambridge playlist and begun to make some important changes. Firstly, I was an intellectual now so it was out with RuPaul and in with the choir of King's College warbling to Once in royal David's city. Songs that reminded me specifically of Pembroke were now included too like Bastille's Icarus.The song's themes of youth, chaos, and alcoholism reminded me of William Pitt the Younger, Pembroke College's most famous alumni. Finally, being accepted into Cambridge allowed me to view the institution objectively and with a critical eye. This led to the inclusion of songs like Madonna's Material Girl, reminding me of the less attractive sides of my new home.
Now I've been here for over a week. I've been set my first essay and I'm wading through my first reading list. To be honest, it feels quite overwhelming. Fortunately, music continues to provide a comfort and a crutch. My Cambridge playlist continues to grow with the addition of soothing tunes that provide inducement to study like Lana Del Ray's Norman f***ing Rockwell and Hozier's No Plan. The latter has become especially dear to me, reminding us not to sweat the small things. 
Excerpt from the Cambridge Playlist
Panic! At the Disco – High Hopes
Hamilton – My Shot and Alexander Hamilton
RuPaul – Sissy that walk
The Killers – Mr Brightside
Joseph and the Technicolour Dreamcoat – Any Dream Will Do
Lady Gaga – Applause 
P!nk – Stupid Girls
Madonna – Hung Up
Taylor Swift – Better than Revenge
George Michael – Faith
The Beatles – Let it Be
The Choir of King's College – Once in royal David's city
Elton John – The Bitch is Back
Bastille – Icarus 
Madonna – Material Girl 
Abba – Money, Money, Money
Dolly Parton – 9 to 5
Rocky Horror Picture Show – Time warp 
The Blossoms - Charlemagne
Lana Del Ray – Norman F***ing Rockwell
Handel – Concerto Grosso Op. 6, No.12 in B Minor, HWV 330.
Hozier – No Plan